Today we explore what you need to know when designing your kitchen through 10 quick tips.
If you're about to start a kitchen renovation or build one new – you're going to want to learn our top hacks. It will help you realise a dream kitchen that is just as good in reality than on Pinterest. 
1. Natural light
It's all about atmosphere. Maximise how you use light and capitalise on windows, skylights and through light from other rooms. Windows can go up to the ceiling to add the most illumination. Custom lighting designs are great for different times of the day and have come a long way since a single dimmer switch. Mirrored splashbacks and surfaces help transport the light around the room.
2. Blank Space
Be like Swifty and ensure that you have room to do… well whatever you like. In today's kitchens, they're not just for cooking and cleaning, people work, study, socialise, and organise or unpack from their day. Have ample bench space that is not cluttered so you can be flexible in how it's used.
3. Power up
Plan electrics well and early. Installing power points after the fact because you didn't add enough can be costly or be in areas that are less than optimal. Look into newer tech such as built in charging surfaces to reduce cords and plugs.
4. Remember the cooking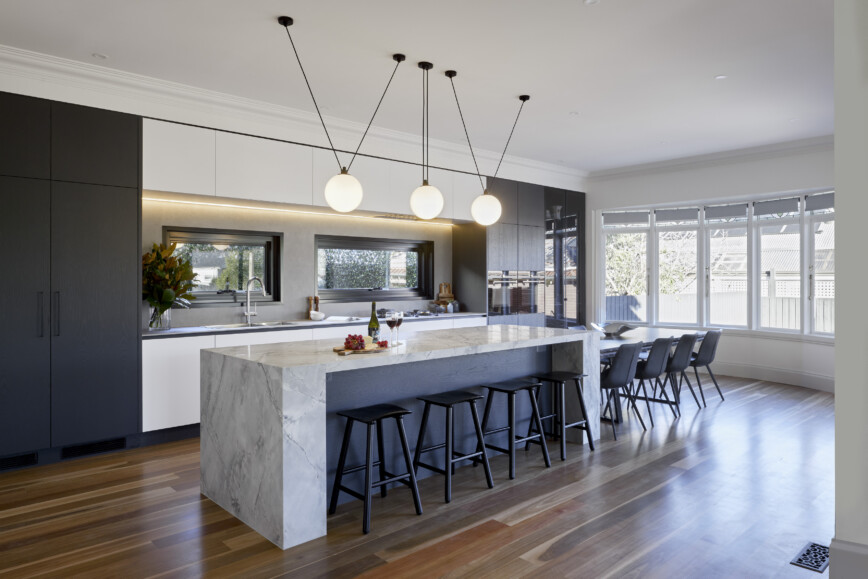 Optimal dimensions are 1200mm in a triangle for stove, sink and fridge. If this configuration doesn't work in your space consider something like a pot filler to aid the cooking process.
5. Drawers, drawers, drawers!
But not just any drawers, you need a mix of smaller and larger to suits everything from appliances and bins downs to baby spoons. Uber organisers don't find a space for everything, they build their space around what they own (or will own soon). Do this.
6. Ensure that great ventilation is installed.
Ideally you want to vent kitchen fumes to the outside, not just the roof. No one likes lingering smells or smoke from burnt toast.
7. Butler's pantry
Essentially a butlers pantry is a second kitchen off the side of your main kitchen. It could be the size of a large walk in pantry or a substantial area with space for cooking, second fridge, sink and pantry.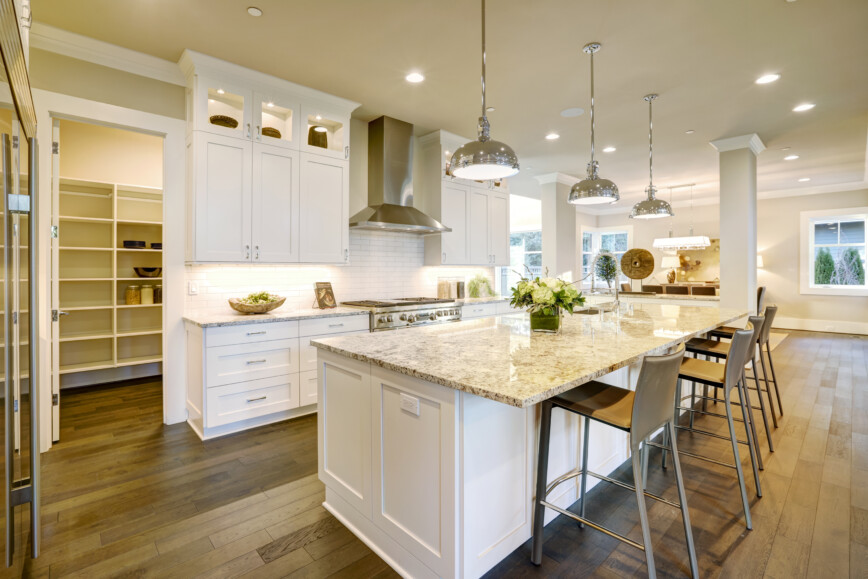 Great if you have a personal chef or want a dedicated food prep zone. What it does is hide the mess, allow for extra storage and maybe even a wine fridge or two. Room to stash away the good wedding china? Yes, please.
8. Waste and recycling.
Recycling is super important if you want to be eco friendly and more and more councils are offering great waste disposal options such as food scraps in the green bin, separate glass and recycling options and soft plastics. So while a dual bin combo is popular, it probably isn't enough for homes anymore. The easier it is to sort your recycling, the better we get at reducing landfill. Drawers and pull out trolleys with ample space are popular and leave more floor space in the kitchen to get around.
9. Small kitchen?
Maximise the space with a floating table or a dining nook. A giant island bench doesn't work for everyone, despite what the architectural blogs endlessly parade.
10. Appliances.
They should work for you not against you. Multi-cookers and ovens not only roast but can broil, air fry, steam and grill. Digital measuring cups can take the place of separate scales and spoons and bowls. Kitchen exhausts are available with built-in air purifiers.
Kitchens are a focal point of the home. They are more than a place to cook and eat, they're also an integral part of our daily lives. So take the time to research and design a space that will surprise and delight you and enjoy that new kitchen! For some extra tips on renovating your kitchen, view our other blogs, including how to modernise your kitchen.