As one of the major rooms in your home that everyone will use, the living room should be a place in which to relax and chill out.
Whether you're watching the TV, resting on the sofa or simply just living life, your living room needs to function to its fullest extent. The best way to do this is to decorate it in a way that helps this to happen.
To create a living room that is enjoyable to spend time in and looks amazing, there are a few superb tips and tricks that you can use. Read on to find out these simple ways to create a living room of which any homeowner would be proud.
Think about colour
This first tip is crucial when getting the most out of your living room. The colour that you will decorate it in is key to setting the mood and getting the feel that you want.
Many people will opt for relaxing tones such as light blues and greens or more vibrant tones such as terracotta or aubergine. Any of these will give you a space that stimulates the mind as well as giving you a tranquil place in which to unwind. For a more classic feel, you could opt for one of the many lovely shades of cream that are available.
You don't have to wallpaper or paint your living room all in one colour. Great effects can be found when you combine colours in the same room. Having one wall as a statement wall in a bold colour, for example, can look fabulous when combined with a more natural shade in the rest of the room.
Choose your style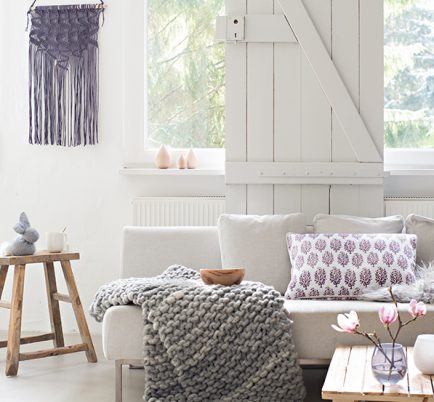 Image Source
A great tip to get the most out of your living room is to pick a style that you want to decorate it in before you start. This will allow you to ensure that the colour scheme and furnishings all match to bring it together as one whole room. It will also make the room look stylish and avoid it becoming a haphazard mishmash of themes.
The Scandi look is very popular at the moment; this uses neutral browns and creams along with accessories such as luxurious rugs and wooden ornaments. If you want to go for a more traditional feel, then why not get a retro Scandi styled sofa and oak-style furniture to complement it?
Think about lights and mirrors
This is a great trick to make your living room as light and spacious as possible. Some strategically placed mirrors will reflect the natural light around the room and also give the illusion of more space than there is.
If you can place a large mirror in a central point and across from a window, the effect that you will get is stunning. Elegant lighting will not only add to the overall look of your living room but will also mean that, come night-time, you can still enjoy spending time in there.
Use shutters to give that finishing touch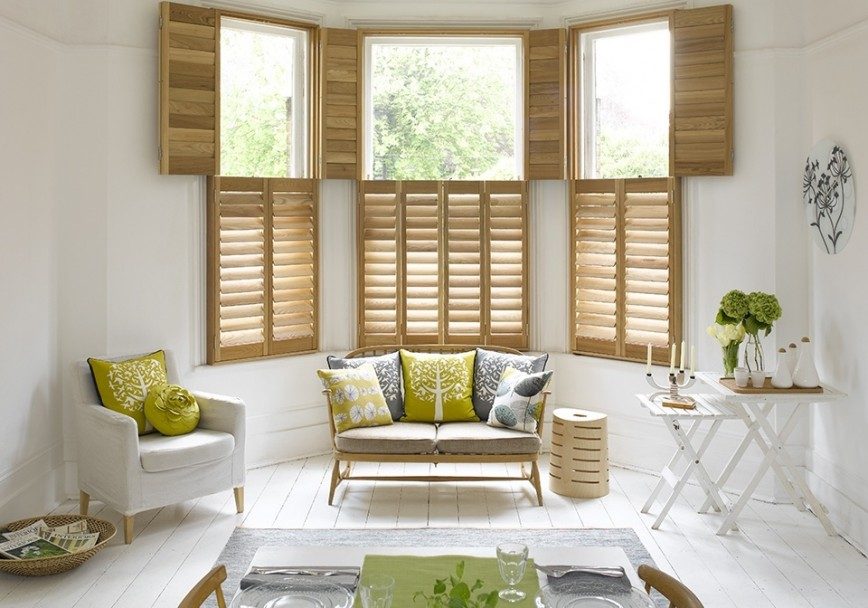 One really amazing tip to make the most out of your living room space is to use shutters. These will not only look fantastic but will also allow you to open them to let light in or shut them when not required at night for full security. California Shutters offers this kind of innovative solution for your home.
With a wide range of colours and styles to choose from, you are sure to be able to find some shutters that fit in with the overall feel that you are going for. Simple to install, easy to operate and great value, fitting shutters in your living room is well worth thinking about.
Draw the eye upward
If you have a smaller living room space to decorate, then drawing the eye up to the ceiling is a fine idea. Many people only decorate on the horizontal plane, but using the vertical one also is a brilliant move. It will instantly give your living room more space and a lighter feel.
A practical way to get this effect is with lots of small or medium-sized pieces of artwork placed in the vertical plane. This will naturally draw the eye upwards and make your living room feel huge.
Making the most of any living room is easy
As you can see from the above tips, getting the most out of any living room is not hard. Even if you have a smaller space, the tricks that we have looked at can make it seem bigger than it is.
Why not try putting some of the advice into practice and seeing just how fabulous you can make your living room look?
Main Image Source