Voice command devices such as the Amazon Echo and Google Home have revolutionised the way that we interact with our homes.
Put down the remote control… Today's smart home devices are voice controlled and able to answer questions by getting answers straight from search engines like Google.
These smart home solutions include voice-activated devices such as the Amazon Echo, and have a heap of useful features. They can connect to other smart devices, such as your smart thermostat, via a wi-fi network or another protocol.
Or you can use voice command devices to play music, video call your friends or family or even simply remember a shopping list.
The biggest innovation in tech since the original iPhone
Tech innovations don't come along as often as you might think. Everyday electronics like the television, microwave and speakers have only seen iterative improvements since the 1960s.
We've had desktop computers since the 1980s and we've had smartphones for over a decade. But what since then?
The "smart speaker" or voice-activated speaker is really the only totally new product that has made a mark on the consumer electronics scene.
The Amazon Echo is a voice assistant device that shifted millions of units. A staggering one in ten people in the US own an Echo according to TechCrunch, that's 39 million people.
What is a smart speaker?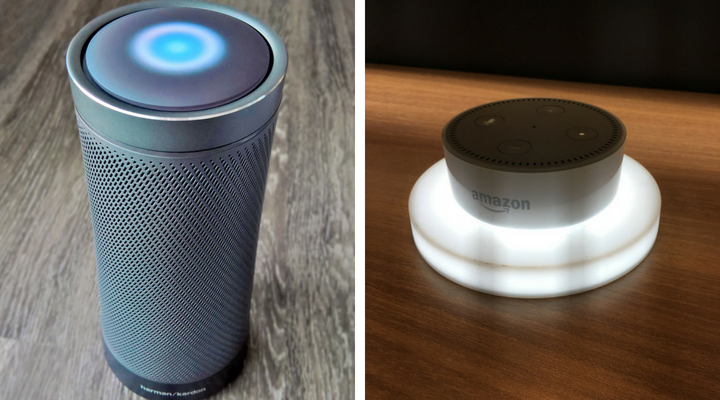 A smart speaker can connect to the internet. As well as being a speaker, the Amazon Echo (and other smart speakers) has a microphone so that it can pick up voice commands.
You can ask the speaker to play music, of course, but you can also ask it a question and it will find the answer for you from Google. You can ask it for the weather forecast or to set an alarm for ten minutes when the pasta is done.
We've seen simple voice-activated devices for a while now. Siri, one of the first voice assistants, has been on the scene since its appearance in the iPhone 4S.
But Siri was never as successful as Alexa — the voice assistant in the Echo. One of the key differences is reliability. Siri only understood what you were saying about half the time.
Alexa's hit-rate is excellent and "she" almost always understands what you want and responds appropriately.
The other difference is connectivity. Siri connected to the iPhone but not much else. You'd have to take out the iPhone and talk to it directly, which was cool, but not any easier (and sometimes more difficult) than using your iPhone as usual.
The Amazon Echo — and other smart speakers — is different. As a speaker rather than a phone, it will have a static position in your room.
This means that when you want something, you simply "speak to the room", which feels much more natural than taking your phone out of your pocket.
In fact, usage statistics show that the smart speaker is primarily used as a timer while cooking. Users like to set different timers without taking their hands off their food preparation!
Choose a voice assistant that's right for your needs
We've spoken at length about Alexa and Siri, but they're not the only voice assistants on the market. The Google Assistant is another option as is Microsoft's Cortana. But which one is the best?
So everyone's clear, here are four key contenders:
Amazon Echo (Alexa)
Apple HomePod (Siri)
Google Home (Google Assistant)
Invoke (Cortana)
The Apple HomePod stands out as a premium speaker and has a correspondingly premium price tag. It's a late entry (coming out some months after Amazon Echo) and has had mixed reviews.
In its favour are best-in-class sound quality and excellent integration with other Apple devices. But Siri has limited capability and Apple traditionally doesn't play nicely with devices made by other companies.
The Invoke smart speaker (with Microsoft's Cortana) lags behind the competitors. It's priced at a low-to-mid range point and is relatively decent as a speaker.
But the Invoke has the same failing as the Apple HomePod but without the sound quality. Cortana works well with other Microsoft properties (like Skype and Outlook) but otherwise isn't that useful.
Building automation & smart offices
Automation isn't just at home. Many commercial buildings feature building automation systems that can control multiple systems and platforms, such as HVAC.
Full commercial building automation systems are unlikely to work with smart speakers but will use purpose built control systems and apps.
Amazon Alexa or Google Home?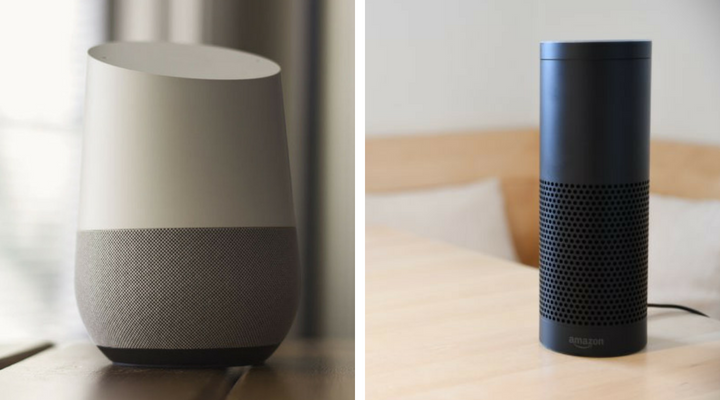 For everyone who's not a die-hard Apple or Microsoft fan, the choice is between the Amazon Echo or the Google Home. The Amazon Echo is the more popular device at a slightly lower price point, while the Google Home is more expensive.
A key point to consider is which device works best for your current setup. While both Google Home and the Amazon Echo work with a broader range of other devices and software than the Apple HomePod and the Invoke, there are still some limitations.
Users with an Android phone will likely gravitate to the Google Home as Google Assistant will sync to both devices much more easily.
So why has the Amazon Echo been so successful? One of the key differentiating features is the Amazon Dot. The Amazon Dot is a super affordable version of the Echo.
This means that you can put a Dot in every room in your house without breaking the bank. Though that might seem like a minor change, it makes a huge difference from a usability perspective.
It's the difference between speaking to your home. Just as how Siri never really caught on because people didn't want to pull it out of their pocket, it's possible that the Echo has the edge because of the freeing effect of talking to the home.