Updating the kitchen is such an exciting project for homeowners. It's the time to tailor your kitchen space to fit your needs and desires.
There are several new innovations that can be used during this process that can improve the homeowner's quality of life, increase efficiency, and even reduce maintenance.
For those who plan on selling their home, keep in mind that an updated/modern kitchen is a key feature for most buyers searching for an ideal home.
Buyers of all kinds consider spacious and modern storage units as the best kitchen features, followed by fitted energy-efficient appliances.
The kitchen has become such a versatile room, which people utilise for more than just preparing food. That being so, here are some updates that will add value to your kitchen:
A Whole New Look
An outdated kitchen is one of the least attractive things your home can have. For starters, old-fashioned tiles, as well as, paint chips on walls, cabinets, and doors simply aren't a good look.
The best way to give your kitchen a clean slate is to replace the door and drawers for a more modern feel, and also add a panel of glass or metal to your backsplash. These are simple and affordable ways of making your kitchen look new without having to do much.
A Fresh Coat of Paint
Image Source: jhinteriordesign.com/
The kitchen is constantly subjected to grease, heat, and steam, which causes the paint to easily get tired. Repainting the walls, doors, and cabinets is a simple and affordable way to brighten up the room.
Bright colours can make the room seem larger, but ensure it's not overwhelming. If you are updating to appeal to prospective buyers, then consider a neutral colour scheme. It gives a more contemporary, classic look that appeals to different buyers.
Whatever colour you choose, remember it can be changed if you don't like the look or get tired of it.
Lighting
Good lighting can make a significant difference and completely change your kitchen's atmosphere. A great option would be to add track lighting. It's simple to set-up and comes in a number of widths to choose from.
You can also opt for attractive pendant lights, which can be placed over an island, sink or dining table. A single statement pendant adds a chic look, but you can also use a few together, which by the way, should be grouped in an odd number.
Dimmer lights are ideal for setting whatever mood you want in the room.
Give the Sink a Facelift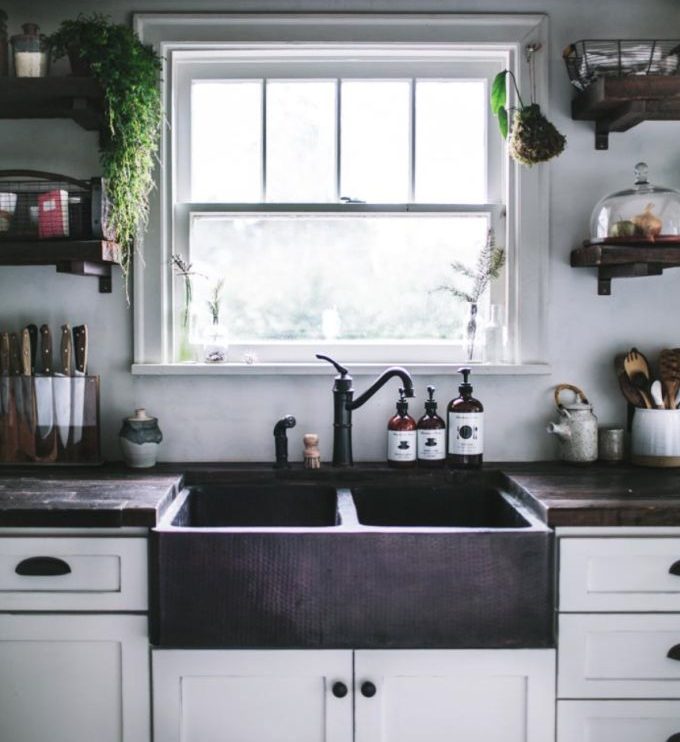 Image Source: Thekitchn.com
Sam from cleaning company Tod Maid Clean says the sink is probably the unsung hero of the kitchen. It may not be the most glamorous part, but it sure is the most heavily used. There's a wide variety of sink styles with different colours to choose from.
Undermount sinks are seamless and sleek. And, with no raised edge or lip, they make cleaning debris a walk in the park. Apron-front farmhouse sinks, on the other hand, offers a charming, custom feel.
In terms of material, go for stainless steel, fireclay, enameled cast iron, or granite composite. Whatever choice you make, ensure it doubles as a centerpiece.
Make Countertops Count
The countertop is probably the focal point of the kitchen. Seeing that it's such a visible part, you want to ensure its aesthetically appealing. It also offers a lot in terms of functionality, as such, the surface has to be durable.
To replace your countertop, use value-boosting materials. Concrete countertops are strong, durable, and pocket-friendly, plus, they can be stained to match the space.
Modern laminates come at a great price and offer a more realistic and hardwearing natural look. More expensive options like marble, quartzite, and granite can add impact to the space.
If your countertops are still in good condition, you can find a professional to resurface them. This will create a whole new look for far much less.
Add a Splashy Backsplash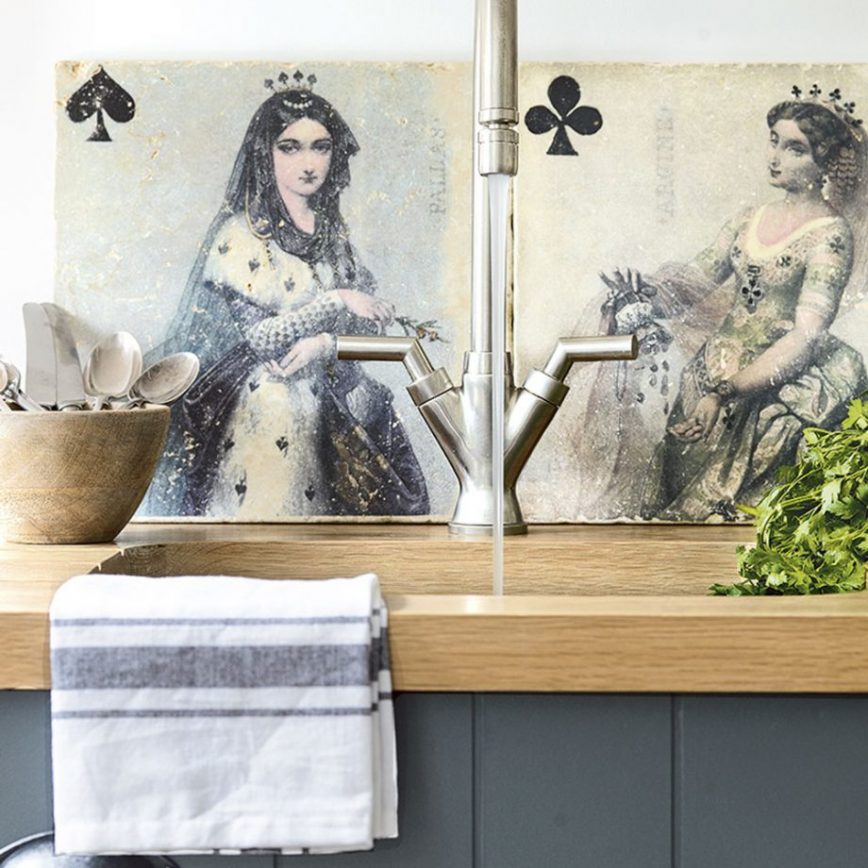 Image Source: IdealHome.co.uk – By David Giles
Imagine doing your dishes facing an old backsplash with yellowed grout. Disgusting, right? Well, replacing your backsplash is a relatively affordable DIY task.
Consider changing what you have for a more modern look like using a classic white subway tile, modern glass, or mosaic tile. These materials come in different shapes and sizes, as well as, offer a pretty look and an easy-to-clean surface. Neutral tones make the kitchen feel brighter and bigger.
Upgrade Your Appliances
Doing an appliance check ensures your current appliances are in good working conditions. Repairing or replacing your appliances increases the functionality of your space, and most importantly, adds value to your kitchen.
Start by upgrading the most used appliances like the refrigerator, dishwasher, stove, microwave, etc. Keep in mind that properties valued over a certain amount of money demand high-end appliances, which means installing cheaper models will subtract rather than add value.
Plus, upgrading to high-end appliances gives your kitchen an expensive and finished feel. Most stores offer deep discounts towards the end of the year, making it the best time to purchase new appliances.
New Flooring
There are several great flooring ideas to choose from. It all depends on your budget, lifestyle, comfort levels, and your sense of style. For instance, porcelain flooring tile is ideal if you want the toughest flooring with low maintenance.
Concrete floors are water-resistant, easy to clean, and offers the look of stone at a lower cost. In addition, concrete can be stained, dyed, and even textured to produce virtually any look. Other flooring options include hardwood, laminate, vinyl, tile, bamboo, etc.
The ways to add value to your kitchen are limitless. A great deal of money, time, and effort will definitely go into kitchen upgrades. But, remember bigger investments add more value to your home.