We expect to see the popularity of wood increase during the second half of 2019 and into 2020.  One reason is the souring public attitude towards plastic.

Increasingly, consumers want to buy products made from sustainable materials.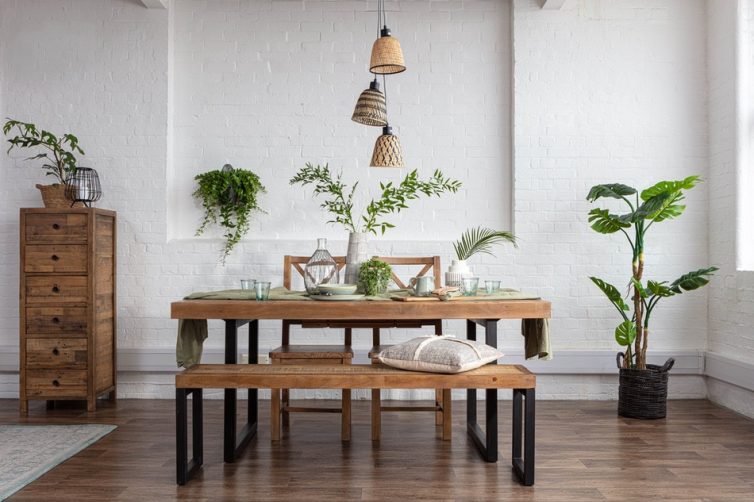 Another increase in popularity is due to the aesthetic nature of wood.  When left natural, wooden accessories help achieve a minimalist, light and airy look.  Our love of this style follows the highly popular Scandinavian design trend that dominated much of the twenty-tens.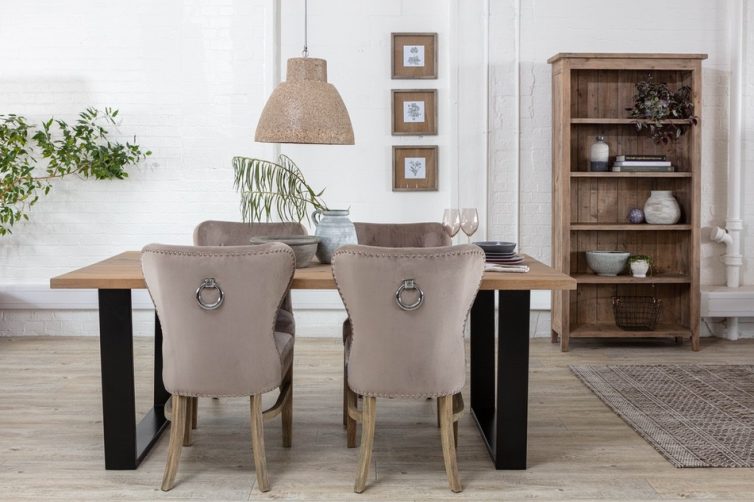 Rather than being a simple construction material that nobody pays any mind to or an afterthought in design, with this trend, wood will be the focus of the room.  
Fancy shopping for the wood trend this season?  Here are some of our favourite pieces from the high street below.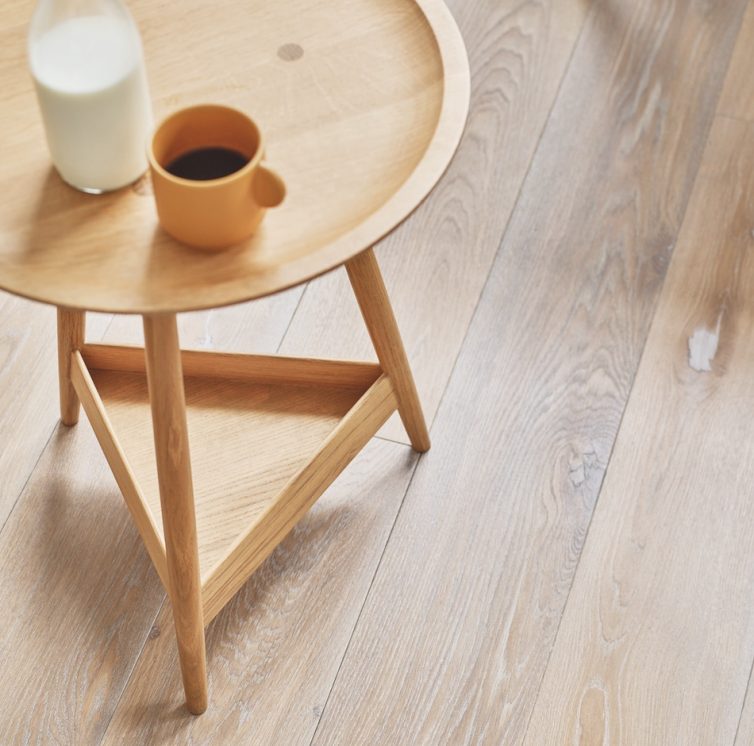 1) Karlsson Wooden Clocks – Hurn & Hurn

We love this wall clock by world-renowned Dutch brand Karlsson.  The clock is a contemporary piece that somehow manages to feel slightly retro!
We've pictured the 40″ darker basswood clock on the right, but you'll find both a lighter wood and a white version of the clock at HurnandHurn.co.uk.  Price:  £53.
---
2) Wood and Metal Box Shelf Wall Unit – The Farthing

Use this industrial-inspired unit to provide storage in your home office or proudly display ornaments in your living room.  We imagine it adorned with leafy plants and unique books, or colourful box files and wire baskets!
The unit has a black iron frame and three natural wood shelves.  It can be purchased for £125 from thefarthing.co.uk.
---
3) Fisherman's Bamboo Pendant Lamp – Beaumonde

Inspired by the Thai fish trap, this lampshade is a little bit different – yet still very chic. Each lamp is handmade, so slightly unique in design!
Beaumonde supply the lamp with a black ceiling cup and a black fabric cord.  If you like the lampshade, you're in luck! It's currently reduced to £135 (was £155 at the time of writing!) Shop it here.
---
4)  Le Forma Quatre Wooden Sideboard – Cuckooland

Looking for a stylish sideboard that will make a statement?  We've found the perfect piece from Le Forma: think elegant white, natural wood and clean lines.  It's very Scandi Chic.
At £1095, this wooden sideboard is definitely an investment piece.  Find it here at Cuckooland.com.
---
5)  Alessi Leaf Fragrance Diffuser – Richmond Cookshop

Finally, a fragrance diffuser that could pass as an ornament!  Alessi's stunning design features mahogany wood leaves positioned in a porcelain vase base.
The diffuser is supplied with the company's signature "Ahh" fragrance.  The scent combines subtle notes of cardamom, hyacinth and vetiver.  Find it at RichmondCookshop.co.uk for £53 (was £59).
---
6) Claudine Double Bed Frame – Swoon

The double bed that dreams are made of!  While the bed's simple, clean lines are contemporary, it also maintains a traditional feel.  The result is sophisticated and timeless.
The mango wood frame has been sandblasted for hours.  This produces that lovely earthy-toned colour.  Find this bed frame at SwoonEditions.com for £699 (frame only).
---
7) Robin Wood Towel Storage Ladder – Made.com

Drape your towels over the four spaced rails on this gorgeous wooden ladder from Blond Studio, an award-winning company with a focus on conscious design.
We love the ladder's pared-back, Nordic design and silhouette that widens at the bottom.  The result is elegant.  Get it for £75 at Made.com.
---
Main Image Source: OrchidFurniture.co.uk