A simple tiled backsplash can make all the difference to your kitchen design.
It can produce a real focal point and feature within your kitchen and can even bring your surrounding worktops and units to life.
Tiles are the most popular choice for kitchen backsplash designs because they are hardwearing, long lasting and easy to clean. You also have plenty of choice, with options to suit any budget and also a vast array of materials, colours and styles to choose from.
Whether you are considering a full kitchen makeover or are just looking for something to provide your kitchen with a genuine wow factor you may just be inspired by our backsplash tile ideas for 2018.
Metro Brick Tiles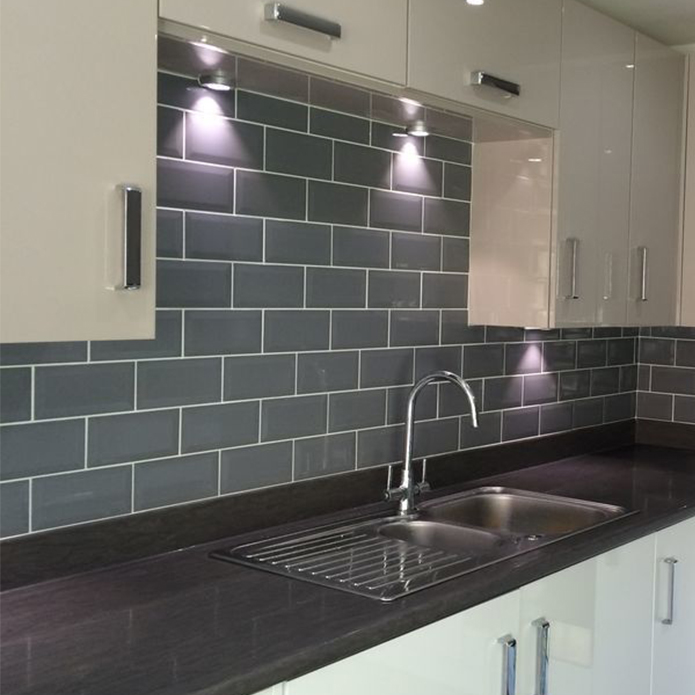 For a classic backsplash style look no further than Metro Brick Subway Tiles. They have a retro appeal but are still extremely well suited to contemporary designs.
These ceramic tiles are arranged in a traditional brick pattern for maximum effect. In order to accentuate the brick formation a contrasting grout colour is used.
Metro Brick Tiles can be complemented by modern units and worktops and chrome handles and sink applications and the high gloss finish can be emphasised further by spotlights.
The sleek and smooth surface can simply be wiped clean and dry so they are also considered to be a low maintenance option.
Patchwork Tiles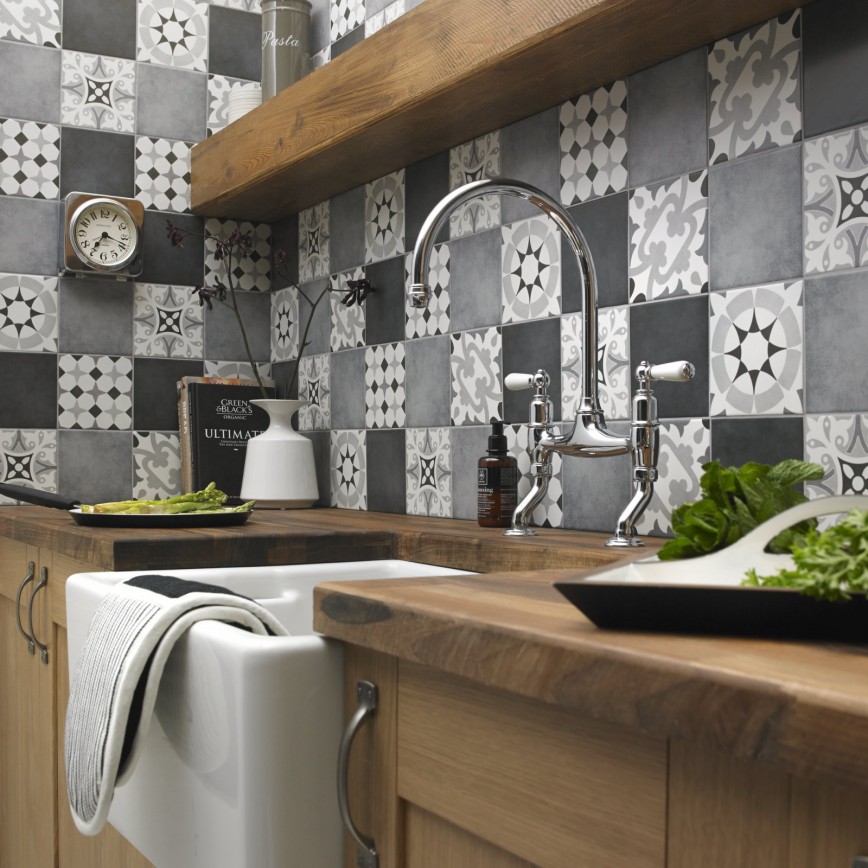 Patchwork kitchen wall designs have become increasingly popular in recent years and this trend is set to continue in 2018. A tiled patchwork backsplash comprises of multiple tiles of varying styles which creates a truly unique feature. Patterned tiles are contrasted with plain varieties which produces a trendy contrast on walls.
This design can provide a standout appearance and distinctive feature in your kitchen. You can select a monochrome Patchwork design or alternatively a multi-coloured décor. This style of backsplash is frequently available for purchase in peel and stick tile designs.
Patchwork tiles match extremely well with wooden worktops and cupboard doors. These tiles are ideal if you are looking to transform your kitchen with a statement design.
Sparkly Mosaics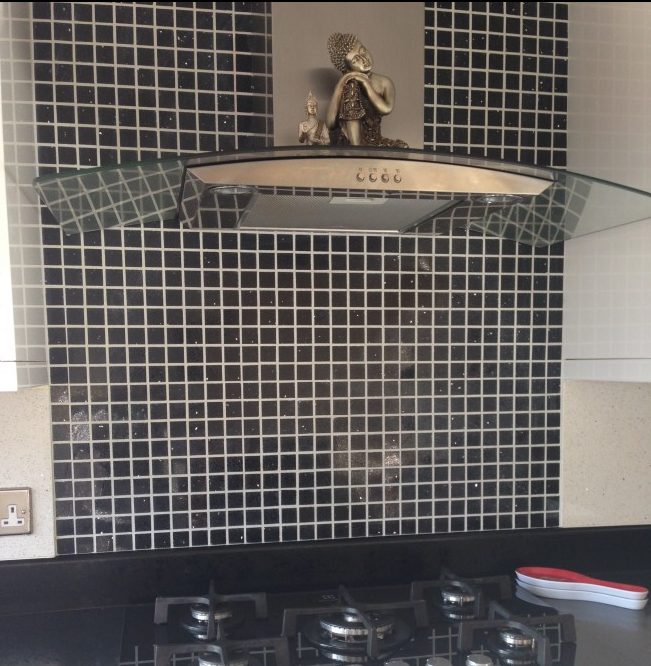 Impress your guests with a sparkly mosaic backsplash in your kitchen. Quartz Mosaic tiles contain reflective mirror pieces which reflect light to add a real sparkle to interior layouts.
The intricacy of a mosaic format is an interesting element of any kitchen interior and these tiles work superbly as part of contemporary settings. You can also contrast them with white features for a classic style.
Lighting can be integral part of designs involving quartz tiles with strong spotlights being the preferred choice as they will really help to emphasise the glistening quality. A modern extractor fan hood works well with Sparkly Quartz Mosaic Tiles.
Rock Panel Cladding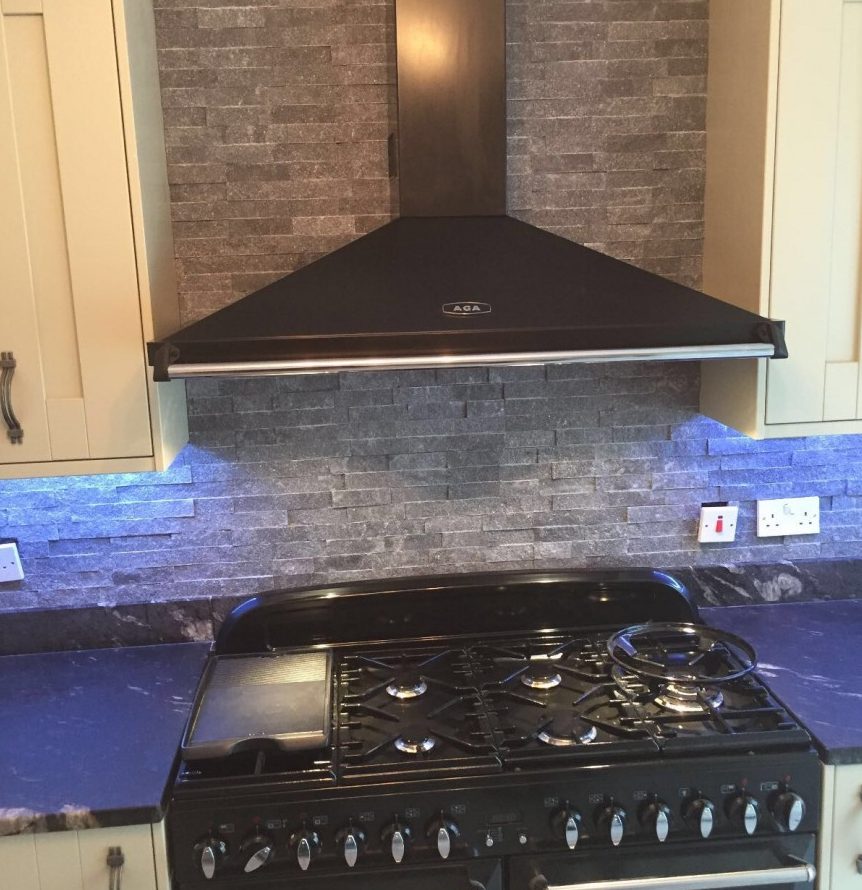 Add immense character to your kitchen design by choosing Rock Panel Cladding Tiles for your next backsplash update. Cladding provides a rugged, brick-like appearance which provides kitchens with a rustic charm.
Cladding is superb for a feature wall kitchen backsplash in both modern and traditional interiors. These tiles can be complemented by popular granite worktops and wooden surfaces.
Spotlights can help to accentuate the textured surface of Rock Panel Cladding when it is used as part of a backsplash. Popular Cladding colours include grey, white, ivory and ochre.
Main Image Source