Once installed at your residence, bi-fold doors can leave a lasting positive impression. They can, after all, be used to open up entire walls of your property and significantly reduce the seam between your roofed residence and your outdoor space.
However, before you proceed with ordering bi-fold doors, think carefully how you are going to decorate your house. How might you need to change your current decor, as the doors style and positioning could have implications as to how you continue.
Give yourself a whole new room – in a sense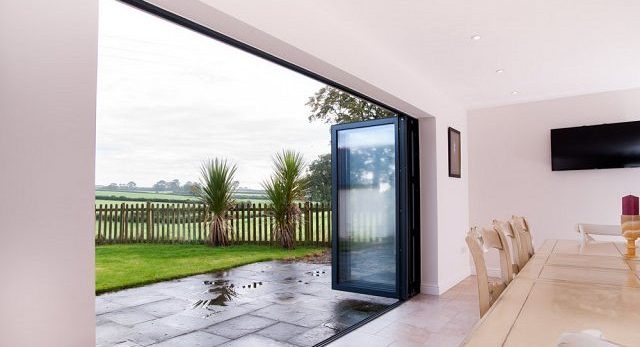 Though French windows are more traditional in look, bi-fold doors have surpassed them in popularity during recent years. If you have seen various examples of how bi-fold door systems have been implemented in the home, you could easily see why there has been such a huge increase in the adoption of such doors.
Just consider that, as Ideal Home points out, even shut bi-fold doors can give the impression of an extra room flowing off the interior. Using pastel colours either side of the doors can further this look.
Make a modern space look even more modern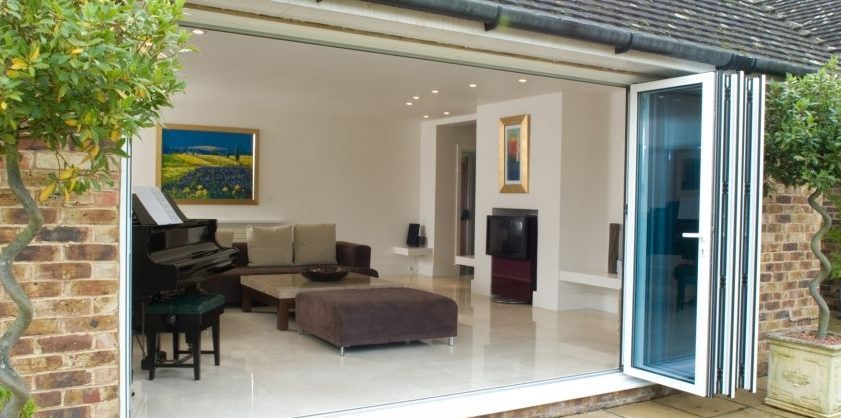 If your home was built relatively recently, it likely includes many of the slick design elements that you would expect to see in a contemporary residence.
Therefore, the installation of bi-fold doors at that property might not strictly call for a shift in your decorating practices, as such doors are "seemingly synonymous with contemporary design", says Real Homes. Aluminium doors can look especially fitting in a contemporary-style extension.
Add a higher number of organic features
If a particular space in your abode has long been left rather closed off, you might have been denied many beautiful views of the garden or countryside. However, that doesn't have to stay the case for much longer if you knock down a wall to put bi-fold doors in its place.
Furthermore, you can aesthetically complement those sights of the outside by opting for a botanical decorating scheme. You could pursue that with green pillows, indoor plants… the choice is yours!
Back to the future? No, back from the future
Even if you have acted on our advice to more strongly cultivate a contemporary cosmetic theme,  bi-fold doors allow you to switch a space's style from modern to vintage surprisingly easily.
For example, once those bi-fold doors are in place, you could hang full-length curtains over them. For those curtains, choose a light fabric like linen or chiffon, as this will strengthen the heritage feel. You could narrow the gap between the curtains but leave the doors open for a soft summer breeze.
Shift furniture around to visually pleasing effect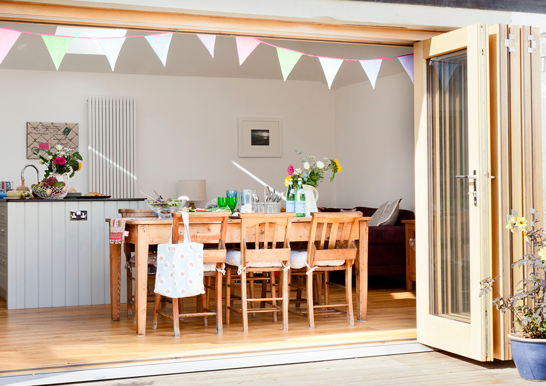 Image Source: © idealhome.co.uk
Do French windows currently account for a large area of a particular wall in your home? If so, having a company like Bifold Shop supply and install bi-fold doors in place of those windows could reap dividends for the flexibility with which you can rearrange the furniture.
Positioning a dining table right before the doors lets you enjoy alfresco dining whether the weather wants you to or not. Vases and bunting could also help foster the atmosphere of a garden party.