As the temperature drops, your living room might start to feel a little cold and sterile without the summer sun beaming through the window.  As the nights draw in and we spend more time indoors, it's only natural that you'd like to inject a little cosiness into your space.
This can be achieved by changing your furnishings and accessories to suit the new season.  We're not suggesting that you get rid of all your best-loved pieces.  Rather, store away items decorated with spring and summer-suited designs (like dainty florals or tropical leaves) until next year and instead, introduce new, cosier accent pieces to your room. Choose warm colours, radiant tones and suitable prints to carry you through the colder seasons.
Cosy colour schemes:
Need help picking the perfect colour scheme?  Here are a couple of cosy palettes that we love.  If you have white or cream walls, simply pick the perfect accent shade to transform the room into a warm and inviting space. 
If your walls are patterned, papered or painted, you'll need to trial and error a few complimenting shades until you're happy with the result.
Amazing Autumn:  Look to nature for inspiration, with autumn leaves providing the perfect palette.  Shades of dark mustard, mellow wine, candy apple red, fiery orange and burnished brown will all add a gentle glow.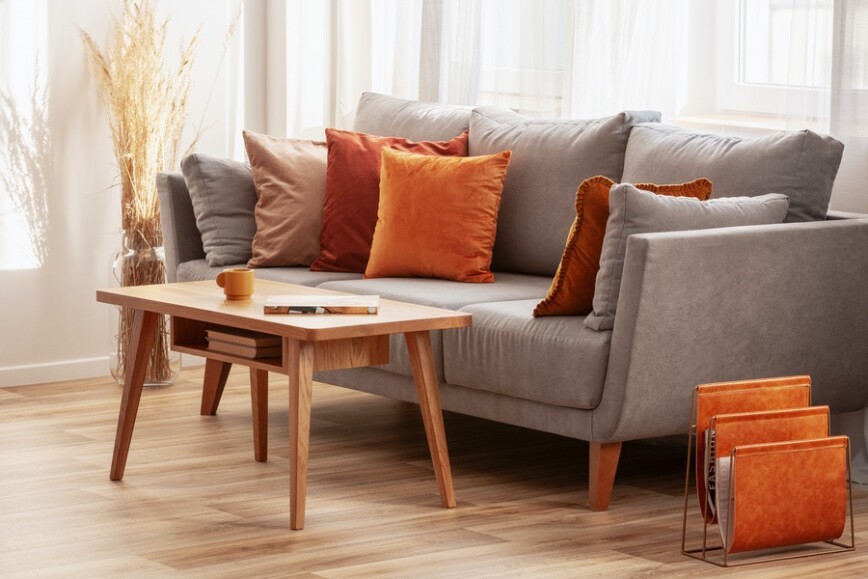 Plum Pudding:  Or, opt for a palette of pinks and purples.  Think bright wine, cherry, burgundy and lilac-red.  This scheme works particularly well with luxe metallic accents and heavy textiles.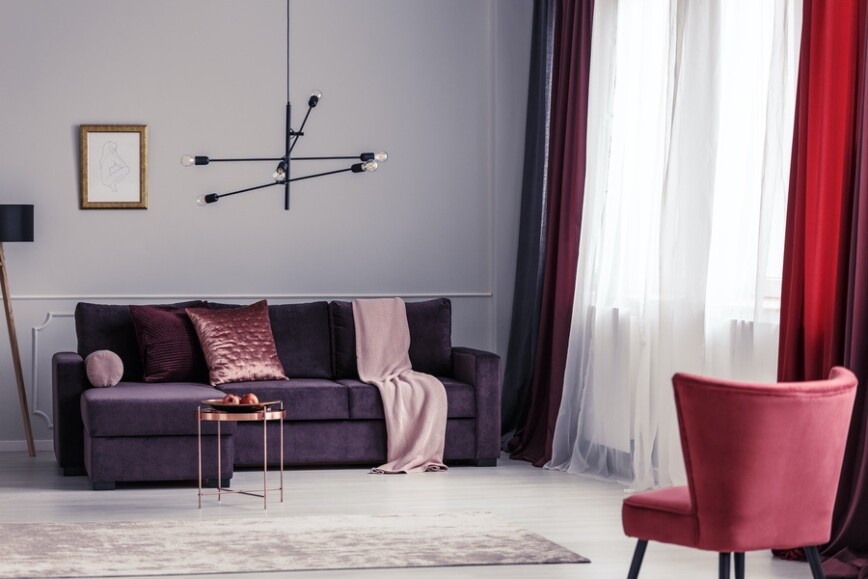 Cosy Coffee:  If you wish to keep your room feeling light and airy, layer shades of dark taupe, milky coffee and tan for an inviting feel. Natural materials complement the theme well.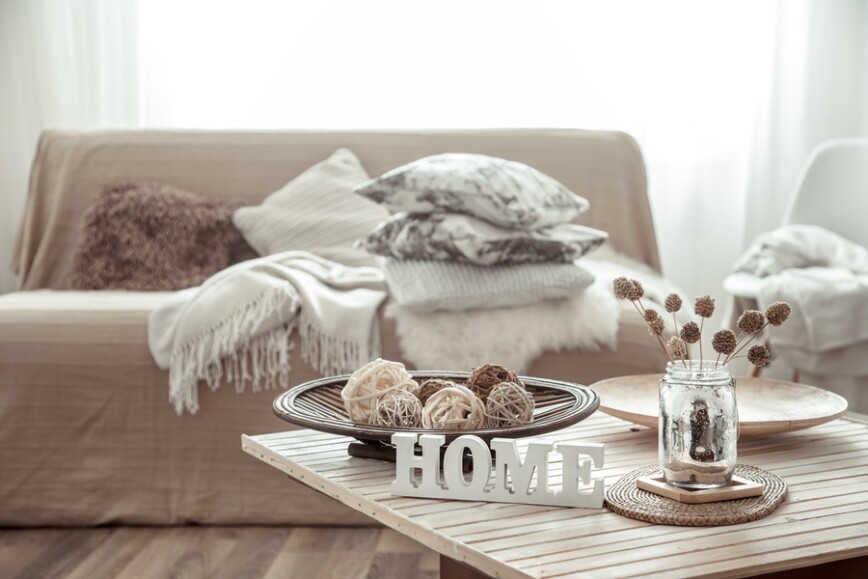 Add Accessories: 
Cushions will cosy-up your room.  Look for autumn and winter designs with stags, foxes and other woodland critters.  Classic tartan is also seasonally appropriate.
Layer soft furnishings to add texture to sofas and chairs.  Use chunky cable-knits, fluffy faux fur and plush fleece to create a sumptuous seat to sink into. 
We recommend investing in an ottoman, pouffe or footstool (if you don't have one already).  The fabric will add extra warmth to your living room.  Sit back and relax, feet up, with a hot chocolate in your favourite mug!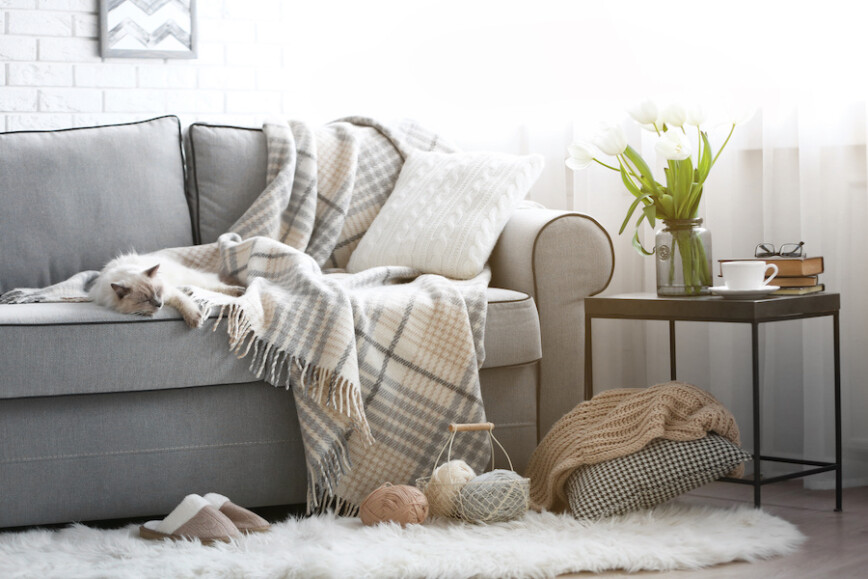 If you are shopping for furniture, bear in mind that some materials are naturally warmer than others.  Fabric and wood feel cosier than cold metal and glass, for instance.  This will contribute to the ambience in your room. 
Don't underestimate the power of a rug!  A humble runner will keep you warm underfoot and add softness to a hard, cold laminate or wood floor.
Lighting:
Lighting is key for creating a snuggly space!  Forget overhead lighting in the evenings, flick on a lamp instead.  We recommend investing in dimmable bulbs, so you can create the perfect cosy, warm glow.
But lighting doesn't have to stop at lamps!  You can layer different types of lighting to create the perfect atmosphere.  Use wall lights and sconces to provide a functional amount of ambient lighting.  Then, invest in accent lighting to subtly highlight your room's architectural features, softly illuminate a key piece of furniture or create a cosy reading nook.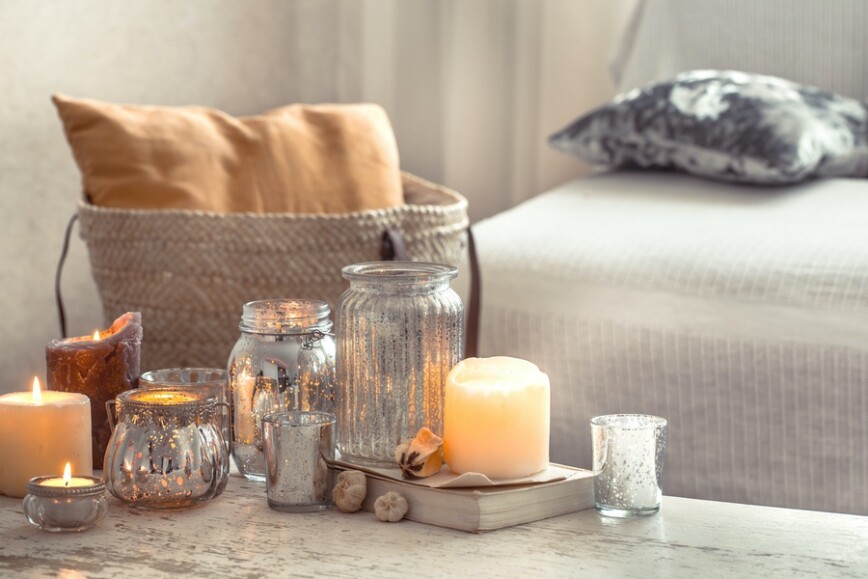 A string of dainty fairy lights with warm-coloured bulbs will enhance the cosy factor in your living room.  Place over a fire hearth, around a door frame or in a vase, for instance.
Finally, a cluster of lit candles will provide the perfect finishing touch.