Planning to redecorate your beach house?  Or do you simply love the seaside?
Below, we show you 11 spectacular ways to use seashells in your home.
1. Shell Sinks
Ditch the boring bathroom basin and opt for a clam shell sink instead.  It's unlikely that you'll find a shell big enough to do the job on a UK beach, so we recommend heading over to eBay for a replica.  This supplier handmakes shell sinks here in the UK.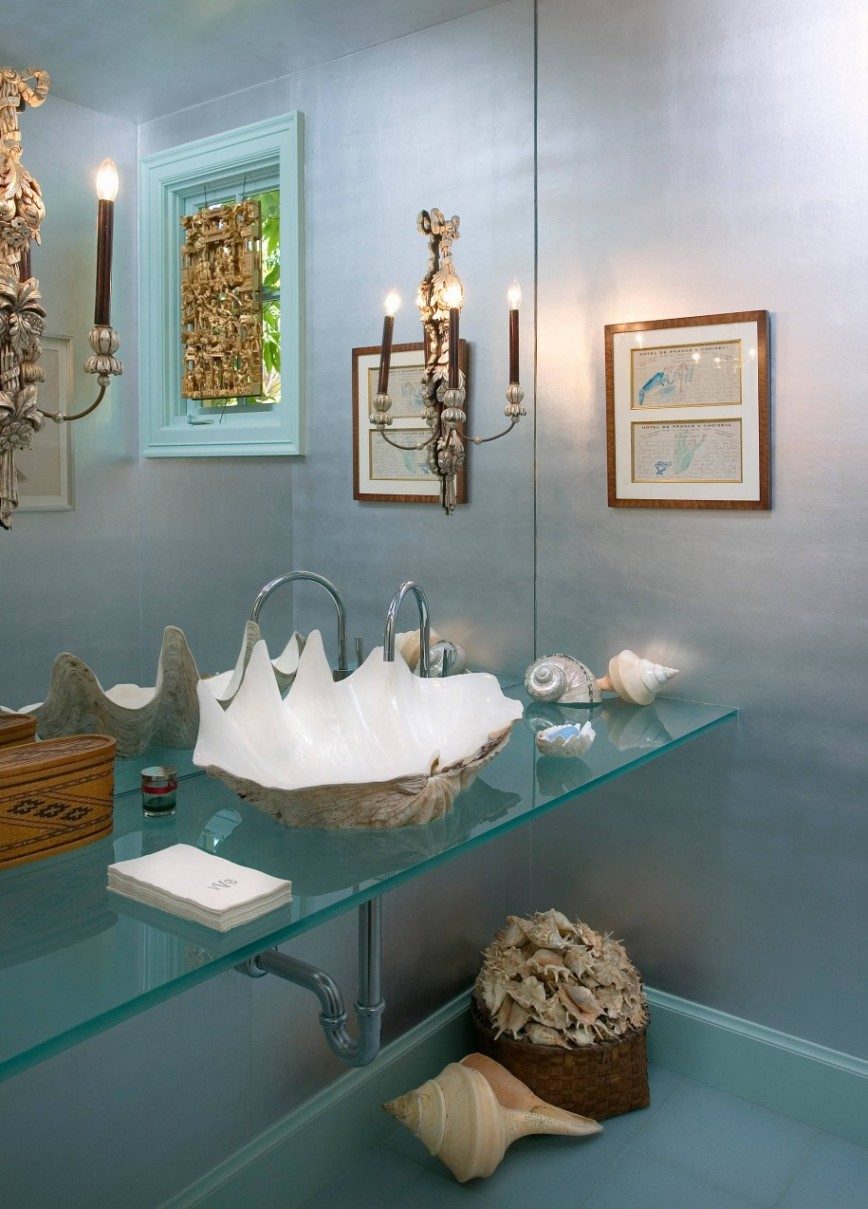 Photo by Giffin & Crane General Contractors, Inc. – Look for cloakroom design inspirati
2. Shell Artwork
If you're looking for a showstopping piece of shell-related artwork for your home, we recommend purchasing from a real decorative designer. We love Thomas Boog's magnificent masterpieces.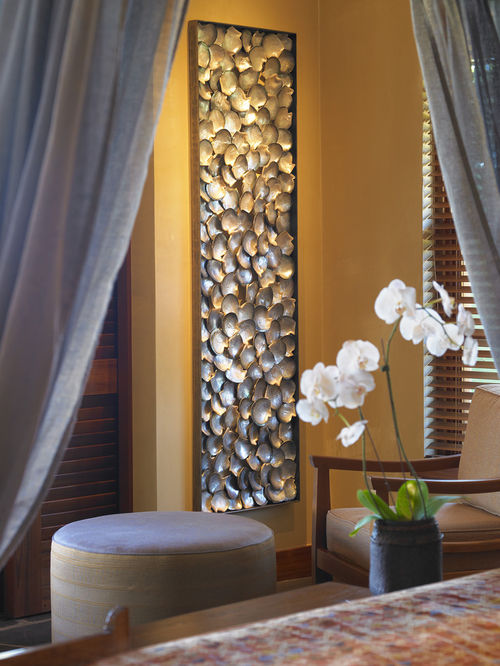 Photo by Dara Rosenfeld Design – Browse bedroom photos
If Boog's work does not fit your budget, you might need to create your own piece of art instead. How about framing your collection of shells and hanging them above the sofa?  The end result is simple yet effective.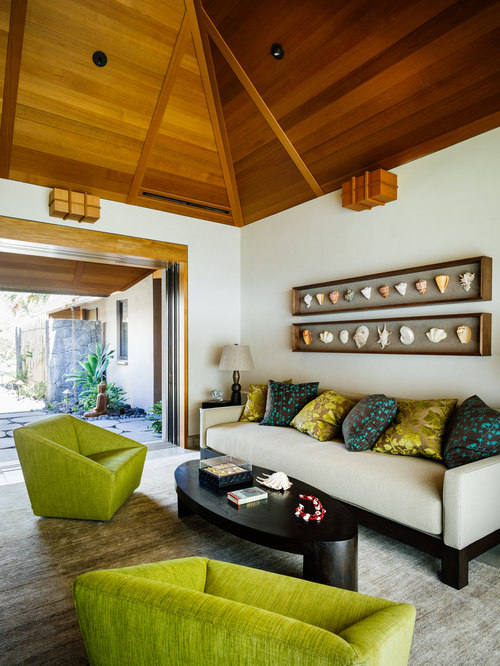 Photo by Saint Dizier Design – Discover living room design ideas
3. Shell Mirrors
Looking for something elaborate and beautiful for your bathroom?  How about a mirror decorated with shells?  We think this impressive piece of decor will become a talking point amongst guests for years to come!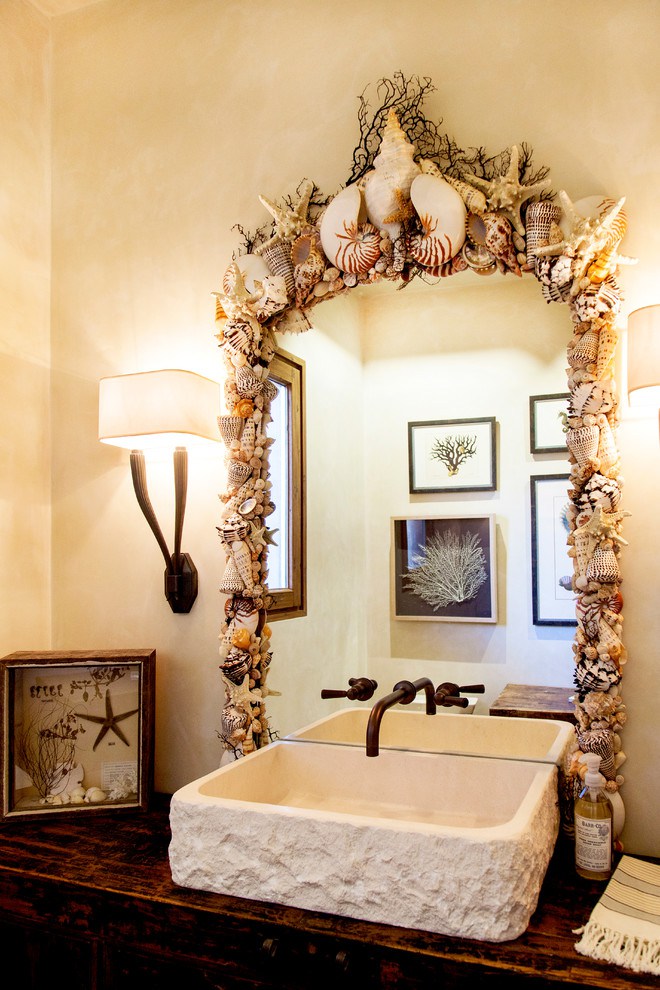 Photo by Mimi Snowden Design – Look for cloakroom pictures
4. Shell Feature Walls
In this Miami living room, the interior designer has used the shells to create a feature wall. The end result is simple yet effective. The shell wall makes a lovely focal point for the room, but it doesn't demand your attention.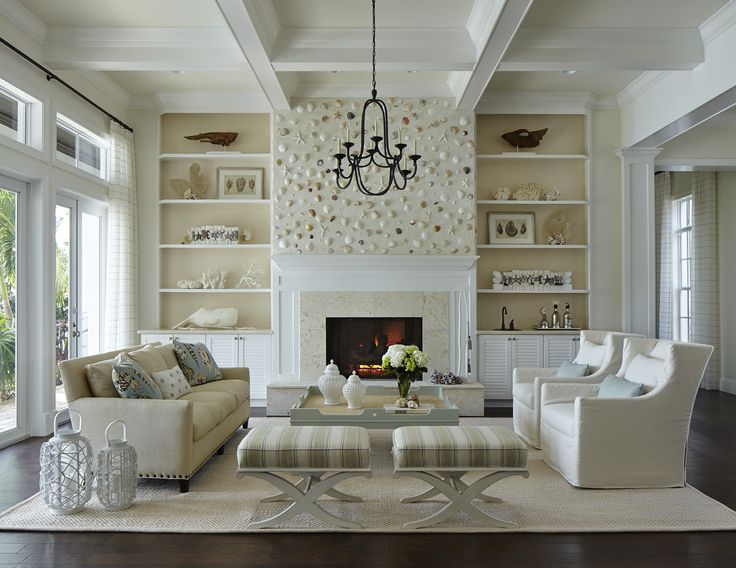 Photo by JMA INTERIOR DESIGN – Discover living room design inspiration
5. Shell Chandeliers
How about installing a shell chandelier into your home?  The spectacular chandelier featured below is made from dozens of abalone shells that have been treated with an antique silver finish.  According to the designer, the pearlescent shells grab the light and project a "tastefully wide array of colour" across the room.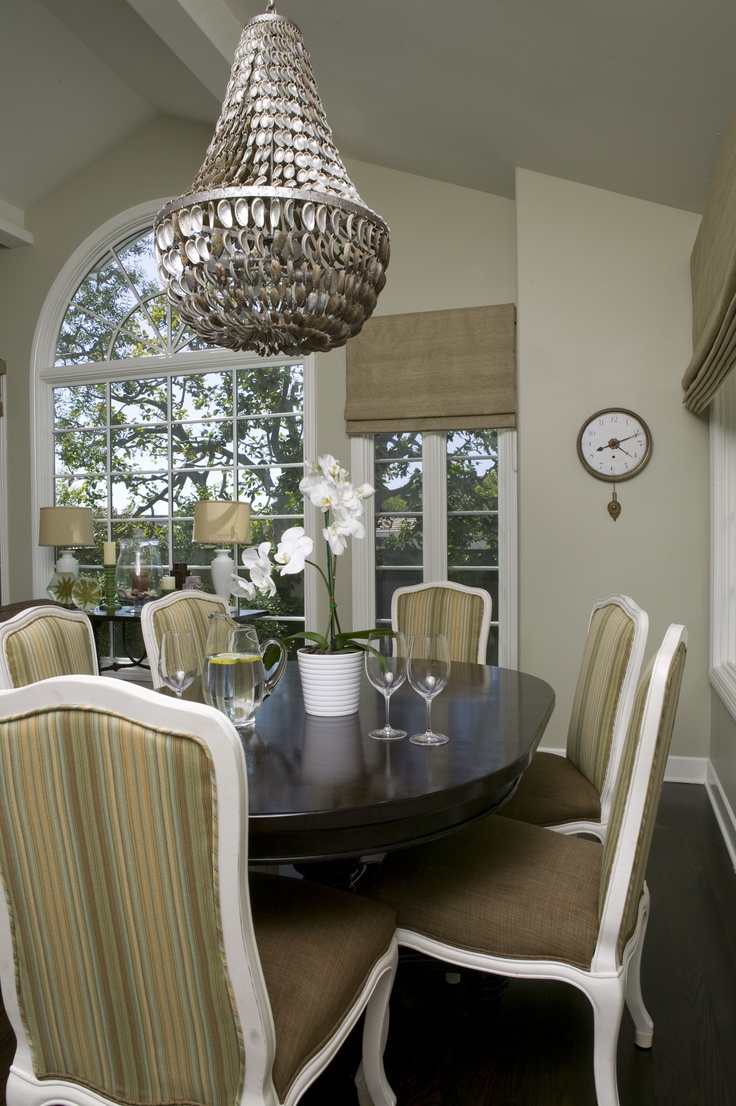 Photo by Zuniga Interiors – More dining room photos
6.  Shell Table Centrepieces
If you love entertaining, you're going to like this clever idea by Doyle McCullar Fine Interiors.  The company added felt pads to the bottom of a large clam shell to create this one-of-a-kind table centrepiece for a client – genius!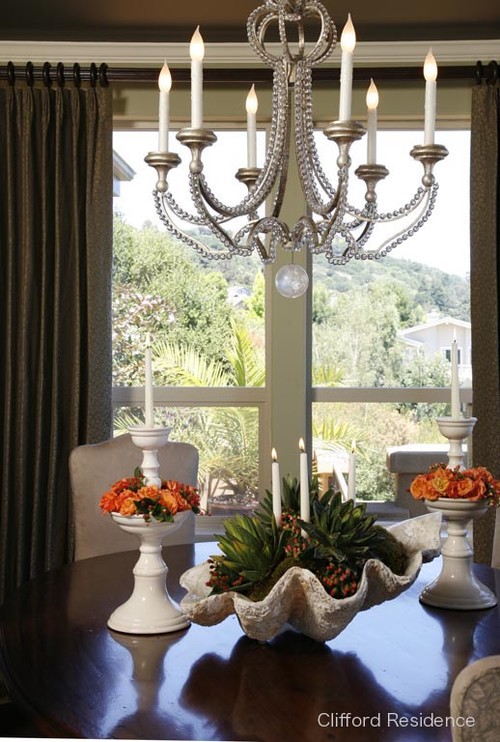 Photo by Doyle McCullar Fine Interiors – Search dining room design ideas
7. Shell Garden Water Features
If you're trying to recreate that beachy vibe in your garden, but you live miles away from the sea, consider installing a shell fountain instead. Enjoy the sound of the trickling water as you sit sipping cocktails on a deckchair – bliss!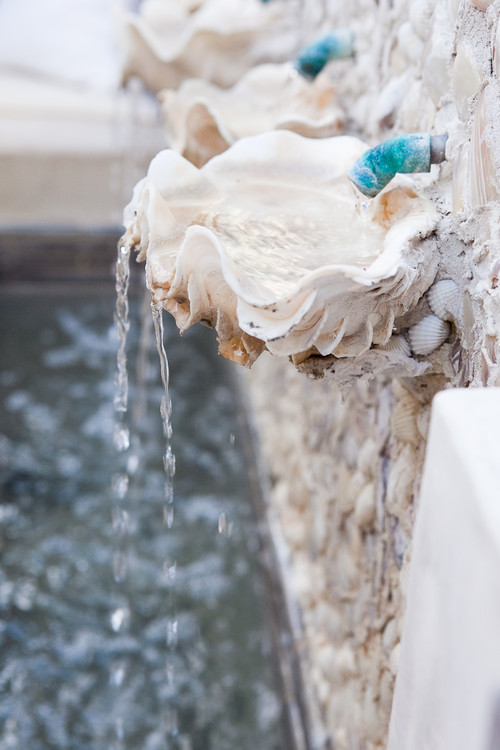 Photo by Molly Wood Garden Design – Browse home design ideas
8. Shell Planters
Create a unique garden feature by sourcing good-sized shells and planting them up with succulents.   Succulents don't need a lot of water or room to survive, so they're perfect for planting in sea shells!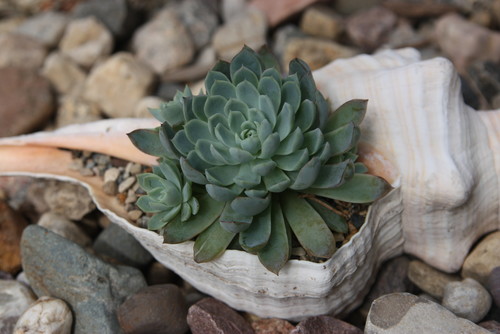 Photo by Deb Welch – Browse garden ideas
9. Shell Trims
Looking for that perfect finishing touch for your coastal themed room?  How about using tiny delicate seashells as a trim for your soft furnishings?  Before you get the glue gun out, you'll be pleased to read that you can buy the trim already assembled from Samuel and Sons (they sell seven different designs).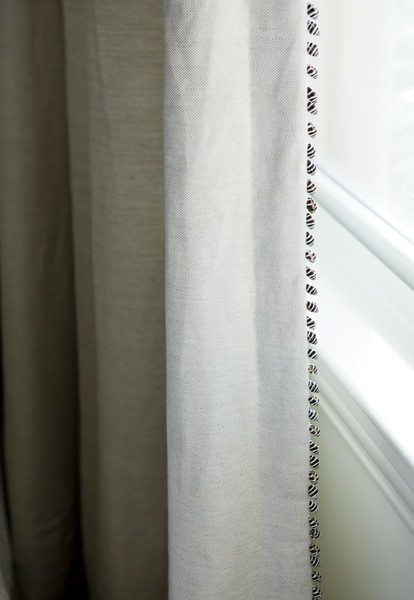 Photo by Liz Williams Interiors – More home design photos
10. Shell Cabinet of Curiosities
This is the perfect DIY for the well-seasoned traveller. Create your own cabinet of curiosities to display your seashell collection and the other treasured objects that you've accumulated on your trips abroad.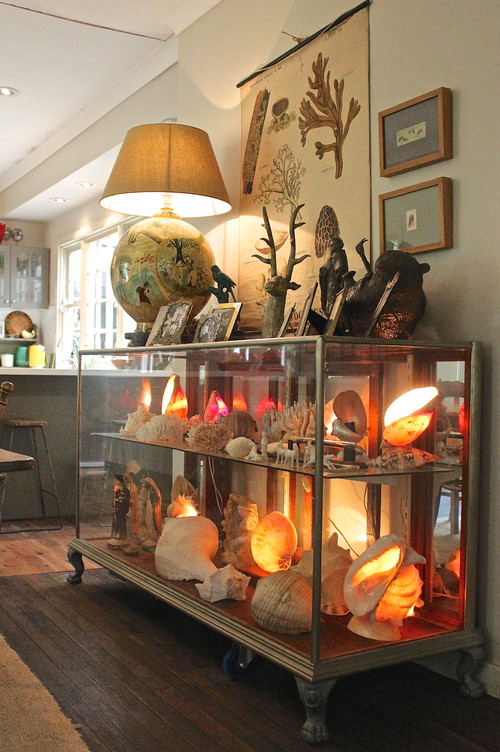 Photo by Luci.D Interiors – Browse living room ideas
11. Shell Curtains
Looking for something a little different in your conservatory?  We love this shell curtain – it's an absolutely stunning alternative to a traditional window covering.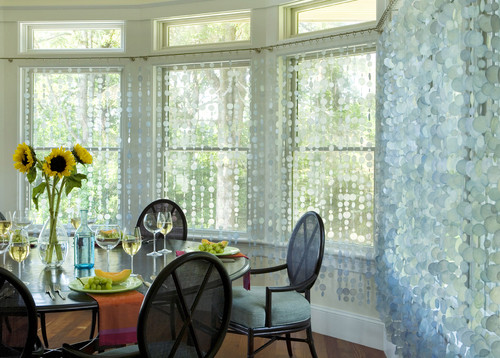 Photo by Siemasko + Verbridge – Discover dining room design inspiration
Now add yours
If you can think of an inspiring way to use shells in your home decor, leave a reply below.