Whatever the circumstances are, it's important to remember that fire can injure and kill people.
Historically, many individuals were seriously injured and died due to fire incidents. Not only that, but a higher percentage of fire-related deaths in the United Kingdom and other parts of the world took place in residential settings.
Given these significant figures, it's clear that fire kills more lives than all other natural disasters.
On the other hand, fighting fires at home can be challenging, especially if you don't have adequate knowledge at hand. While most homes may have sophisticated fire sprinklers and fire alarms set in place, there are still several families that lack a working fire extinguisher.
If you're looking to know which fire extinguishers are best for homes and residential areas, keep reading this article.
Fire Extinguishers: What Are They And How Do They Work?
Before tackling the types of fire extinguishers that suit your home, it's essential to know what they are and how they work to fight fires.
In its simplest terms, a fire extinguisher refers to a giant pistol that contains two different substances inside. First, it contains gas, solid, and liquid. The other one is a propellant that refers to a chemical that's pressurised to help the fire-fighting content to come out upon pressing the extinguisher handle.
Now that you know what a fire extinguisher is, the next thing you should do is to learn how to use one in case a fire occurs in your home.
Typically, when using a fire extinguisher, all you need to remember is the keyword PASS.
Pull the pin attached to the fire extinguisher.
Aim or target the nozzle at the bottom of the fire.
Squeeze the handle of the extinguisher so the substance will come out.
Sweep or bend the nozzle side by side and continue to target it to the base of the fire.
Fire Extinguishers: Which Types Are Best For Homes And Residential Areas?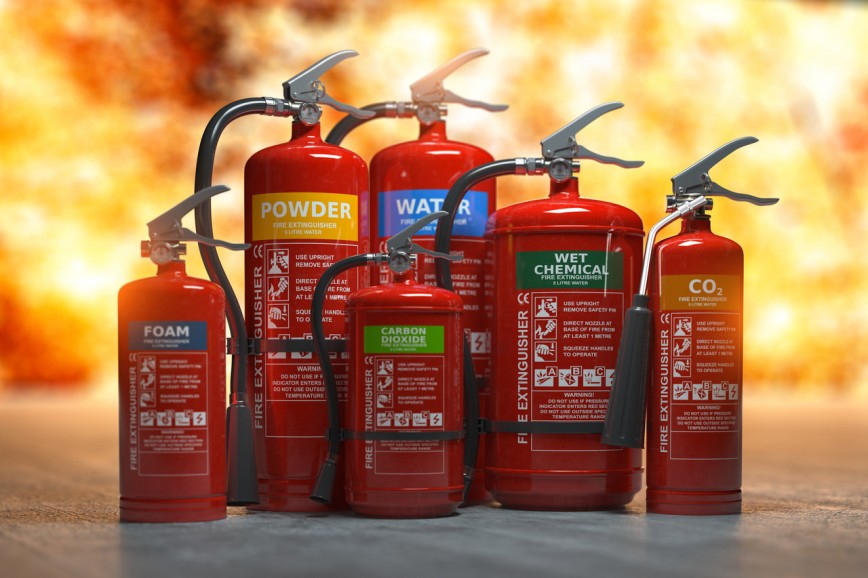 When it comes to fire occurring at home, a home fire extinguisher, in addition to excellent fire alarm systems, is a must. Ideally, all household fire extinguishers have a classification of A, B, or C. In some cases, a combination of these are found on the label. This is to identify which types of fire you can use them.
However, the best fire extinguishers for homes and other residential areas in the U.K. should have a rating of 2A 10BC. This is usually labeled as the A-B-C or universal extinguishers that are best placed in the kitchen and other critical areas at home.
Also, keeping this type can stop the following three common types of fires:
Class A Fires – These can happen in woods, trash, and other ordinary combustible materials and substances;
Class B Fires – These can start from flammable gases and liquids, such as paint, propane, gasoline, and many more;
Class C Fires – These can start from energized electrical equipment, which can burn those materials belonging in class A or B.
Also, using the right extinguisher for the fire is essential because the wrong one can make the fire worse and put your family's life at risk. Unless you're an expert at fighting fires at home, it's best to have an A-B-C fire extinguisher to put out A, B, and C materials.
For example, grabbing an A-type fire extinguisher to extinguish a fire caused by flammable gases will just make the fire bigger. This is primarily the reason why extinguishers are labeled accordingly to make sure they're used for the appropriate types of fire.
Fire Extinguishers: Where They Should Be Kept At Home?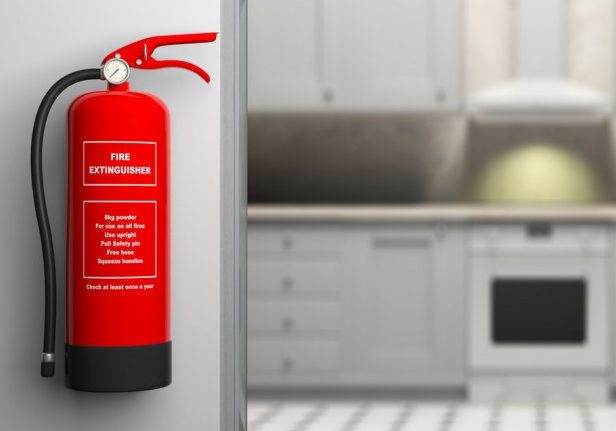 By now, you already have an idea on which fire extinguishers are ideal for home and residential use. This time, we'll discuss where they should be placed at home.
With so many combustible materials in a house, fires can break out in just a few minutes. Because of this, it's crucial to have easily accessible extinguishers to prevent the spreading of fire.
Below are some essential places where you can keep your A-B-C fire extinguishers in your home:
Each Floor – Sometimes, fire can occur in any unexpected location, primarily if faulty wirings cause it. That's why it's also a great idea to observe proper electrical wiring tips to prevent fire. In case of break out, install fire extinguishers on every floor of your home to combat them.
Near Sources Of Heat – Be sure to have an extinguisher near the sources of heat, such as the chimney, room heater, or fireplace. However, when it comes to your cooking equipment, observe a safe distance when putting one right next to the source of heat.
Kitchen – As mentioned, don't place the extinguisher in the immediate vicinity of your stove. Instead, have it installed on a wall adjacent to your kitchen so it can be accessed in case a fire occurs.
Bedrooms – Since most fires take place at night, it's safer to mount a fire extinguisher in the bedrooms, so you don't need to be running around the house to look for one. Even the children's rooms should have access to a fire extinguisher to make sure you can extinguish a fire quickly.
Conclusion
A fire can be one of the biggest threats in your life and home. Without proper household fire extinguishers and a fire safety plan in place, it can destroy everything in just a short period. Therefore, keep these points in mind to give you an idea of what type of fire extinguishers is ideal for homes and residential areas in case a fire breaks out unexpectedly.
However, if the fire isn't going out easily and quickly, you should call the fire department in your area right away. They'll arrive in your home to put out the fire, investigate it, and make sure another one will not ignite.