Although this spring season seems to be wetter than what we expected, that's no reason to give up hope that the sun will make an appearance this summer. And before it does, why not add some notes of encouragement to your space and welcome in the new season.
If you're not sure where to start, then look no further. Keep reading as we guide you through some of the best ways to represent spring in your home.
1. Coordinate bold colours with more neutral tones
If you're looking to inject colour back into your space, but you can't decide on just one, then coordinating a few of your favourite shades could be the perfect way to go. If you've concentrated your colours to the walls – perhaps with a feature wall or a patterned wallpaper – then opt for more neutral furniture pieces to stop your chosen room from being too bold.
You can also tone down a bright colour with more muted toned fabrics, such as rugs and curtains. For example, powder blue walls in your living room can be supplemented with cream or grey furniture and textiles, with another pop of colour being brought in with some bold magenta pillows across the sofas.
2. Accent with one colour
If you're more inclined to keep things lowkey this summer, then limiting yourself to one bold colour is the perfect way to stay true to your tastes, but also participate in the latest trends. Let's take the kitchen, for example. You really can't go wrong by keeping things bright and white, but that doesn't mean that there's no room for colour. Cut through the potentially sterile feeling of an all-white space with some coloured stools around your eating area.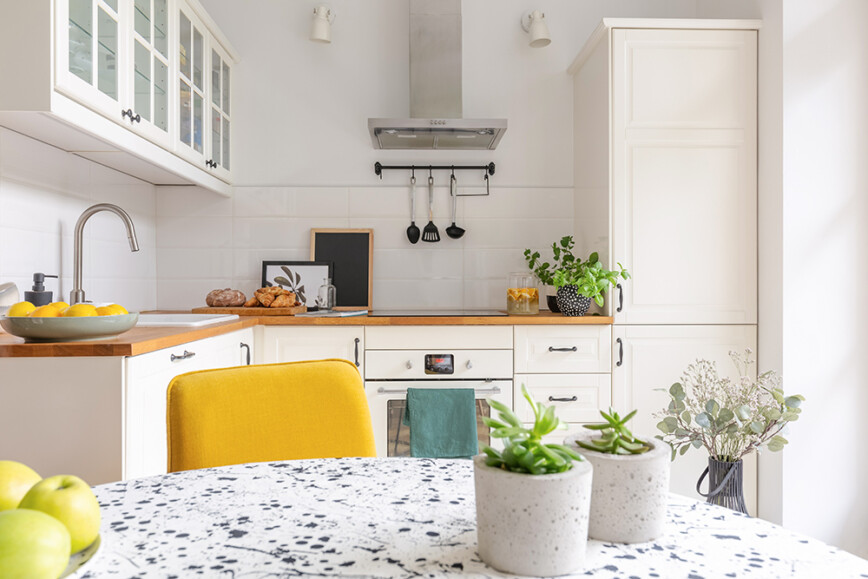 One of Pantone's Colour of the Year selections is a bright yellow called Illuminating – and this could be the perfect way to incorporate it into your home. Keep your kitchen feeling positive with some yellow stools, and perhaps even invest in some kitchen aids or decorative utensils of the same tone. These little nods of colour are sure to add some interest to the room, and keep things light.
3. Make a statement
Summer time is all about sunshine and flowers, and welcoming in a new season always brings with it a sense of renewal. So, why not reflect that with some carefully curated patterned wallpaper or blinds? We now move to the bedroom, where it's best to keep things simple. Select a bright and bold floral wallpaper and create a feature wall opposite your bed. This way, you'll be waking up to blossoming flowers every morning, whatever the weather.
If you're not ready to commit to anything quite so permanent, then there's always the option of investing in some statement designer bedding, again focussing on floral patterns. Your bed is often the focal point of the room, so why not embrace this and give any visitors something to look at? You can even tone down a bold print on the sheets with some more neutral decorative pillows, or even a throw.
No matter what category your style falls under, there's always a way to get involved with the latest trends that follow each season. Be bold, be brave and welcome the liveliness of spring with these top tips.