Building a new home is very exciting. It's a special life milestone that all adults go through and experience. It's a right of passage.
If you're not a designer and you have no experience whatsoever in homebuilding, things can get pretty tricky and challenging. You soon find out that looking for a door is not as simple as booking an appointment at Rock Solid Doors. There are a thousand things to consider and plan for. So much so that much of what's truly important gets overlooked.
In designing, little things done with intention go a long way. To ensure that your home-building experience runs smoothly, we enlist expert tips that you should take note of. Closely dedicating time and effort to them will make a world of difference. 
Tips You Should Observe When Building Your New Home
Expert Tip 1: Mind your curtains
The difference between a home that feels homey and a home that feels not-so-homey is the presence of curtains. You will be amazed at how effective curtains are in making a home feel cosy, warm, and truly yours. You don't have to go all-out and spend bigly on curtains. You can start small by knowing what places need curtains and simply choose basic designs. That very act will allow you to branch out and look for curtains that better match your personality, the mood of your house, and the season. 
Expert Tip 2: Headboard 
Your headboard will complete the look of your bedroom. A good one is sometimes the only thing that differentiates a dull bedroom from one that feels grounded and truly restful. The good thing about customizing your headboard is it will allow you to truly show your personality. You don't need to go for a glamorous design if such a look does not align with your personality.  PRO TIP: A larger headboard gives off a better aesthetic impact. 
Expert Tip 3: Make your bathroom your own
Bathrooms do not have to be boring. It is a sanctuary where you could let go of all your troubles and truly relax. It is the best place to truly customise and personalise. You don't need to spend big. Simply opting for a better shower or a different shade of paint will do. Placing bath mats and shower screens will also do wonders. 
Expert Tip 4: Ceiling detail
99% of all ceilings are almost always plain white. Why? Well, it is practical and cost-effective. You can, however up your game by changing a thing or two on your ceiling. You can easily make your ceiling interesting by doing the following:
You can try a high-gloss finish
You can try using wood
You can add live plants
You can do stencil
You can use a wallpaper
You can consider having a three-dimensional installation
You can go for a layered look
To make customising your ceiling hassle-free, choose to work with a skilled tradesperson with years of experience under his belt. 
Expert Tip 5: Don't miss out on colour and texture 
There is a very thin line between having a minimalist home and a bland home. Regardless of your aesthetic preferences, you shouldn't skip a chance to explore different textures and patterns, and to play with different colours.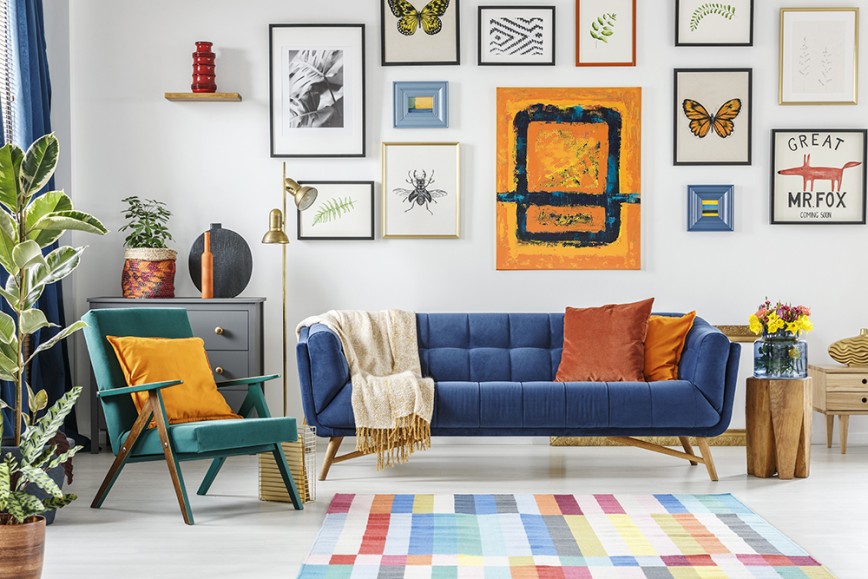 This very thing will easily make you feel like a professional interior designer. This is the very thing that interior designers do, they play with different colours and textures to make a space look vibrant and alive. 
You don't always have to rely on paint if you want to add a pop of colour to a space, you can play with colour by using throw pillows, rugs, and bedspreads. 
Expert Tip 6: Radiator
You don't always need to settle for a regular radiator that can seem bland and depressing. You can opt to look for one that can brighten up a space and make you smile. A radiator's purpose shouldn't be limited to function! You can very much play with its colour and placement. The sky's the limit! 
Expert Tip 7: Door
A house is never complete without a door. Your door will always be the one thing that will unite the look of your interior and outdoor space. You shouldn't miss the chance to personalise it and make it work for you. Whatever happens, please don't ever settle for a generic one. Make your doors functional and aesthetically pleasing. Use them to allow for more light to enter a space. Use them to add a pop of colour and energy to a room. When choosing one for your spaces, do the following:
Your door's material should be suitable for your environment. It must be able to withstand all kinds of weather.
It should be insulated and energy-efficient.
It should be highly secured.
It should complement the design of your windows. They don't need to look the same but they need to look united. 
Expert Tip 8: Landscape 
Lastly, you should dedicate time to landscaping your garden. You can choose to do everything all by yourself or you could simply work with a landscaper. A home with a garden will always be calming and beautiful. Remember to plant the correct plants in sunniest spot in your garden, as some will find it too hot. It takes years for a garden to fully bloom into its beauty so it's best if you could begin working on it as early as now. Your garden does not have to be grand. It just has to be true to your space.