Are you a total bookworm? Are there piles and piles of your favourite volumes that just need the right place to show them off?
Perhaps that old bookcase just needs an update, or you want to create the library of your Jane Austen dreams… Well, we have some ideas for you to take inspiration from!
The simplest solution: a traditional, sturdy bookcase
The advantage to this classic is undoubtedly the simple fact that it is fit for purpose – designed to hold as many books as possible! Invest in quality – books are, of course, very heavy – so bookcases made of flimsy materials will sag, or worse – topple over! Always remember to put the heaviest books on the bottom.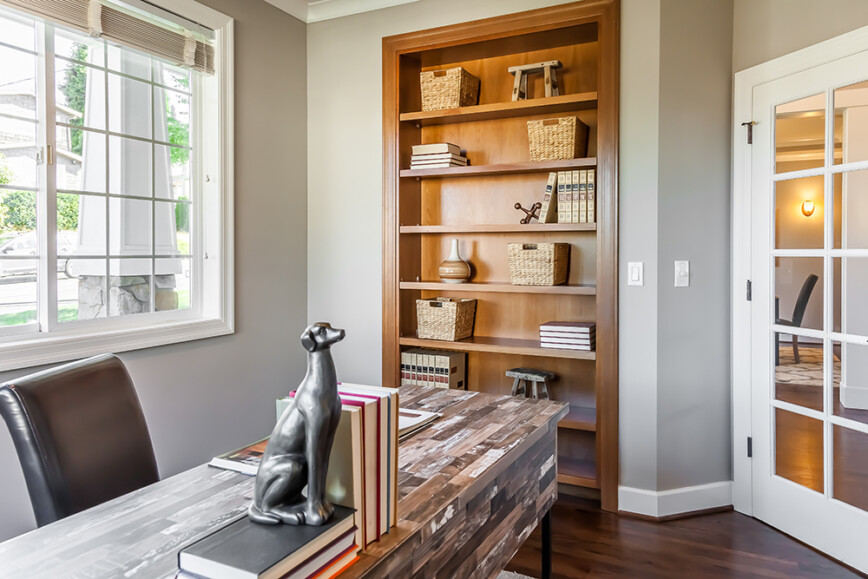 Pretty much every store will sell these, but the most solid can be found in vintage shops, even flea markets if you're a real bargain hunter! Look for solid oak, or metal, over plywood or MDF.

You can get creative with colours and finishes – even paint motifs on the side, if you wish. Just remember to properly prep wood, and try not to be tempted to choose just 'any' colour. It should always match the scheme of the space it's in, or it can look too busy.
Inbuilt shelving
Here is where you can really use the space available to you. Got a spare spot around the door? Fill it with books! Why not build a show-stopping library around your bed – or above the sofa! Books can make a wonderful centerpiece for a room.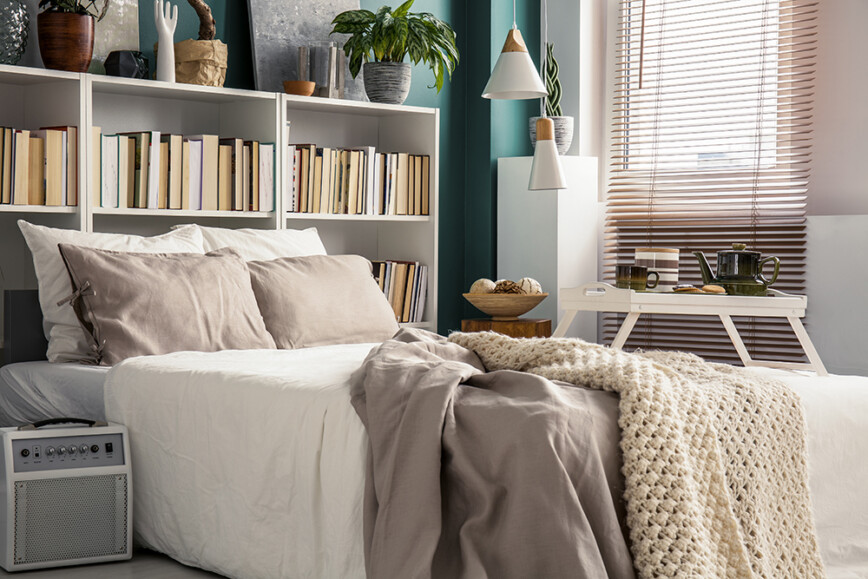 Sunken shelving, or alcoves, are wonderful too, great for living rooms and providing structure to a space. You could even build a little seat in the middle, and fill it with cushions & soft blankets – creating the perfect reading nook!
Our top tip? Paint the interior of the shelves in a dark tone. It'll add depth, and showcase off any ornaments you place in-between the books. Another good idea is symmetrical box shelving, which looks very stylish & visually pleasing – however this can limit the space you have, so if you have a huge amount of books, best to stick to traditional horizontal shelves.
Make sure to hire a professional for installation if you're not too handy, and use quality, solid materials.
Unusual designs
If you don't have a huge amount of books, you can stand to be a bit more creative! There are plenty of alternatives to the traditional bookcase. So-called 'floating' shelves are fun: designed to be totally invisible, the effect is that your collection looks like a large pile of books, which is great if you love an understated look. We like this option for the kitchen – your cookbooks would look great stacked like this, and there are often less of those than other books!

Got an open plan space that needs a little separation? Modular bookcases make great room dividers, providing structure & giving you the opportunity to showcase your best volumes front and center! You could even get a striking glass or mirrored bookcase – this will really open up smaller spaces, but of course requires a lot of cleaning, so not a good choice for those less inclined to dust!
Colour matters – material too!
When choosing the colour of a bookcase, you must take into account the colour of the other furniture, the room's decor, and the colour of the floor. Generally speaking, less is more. Books tend to be quite 'busy' – there are a lot of contrasting colours and designs, so an overly patterned bookcase could clash with this.
If in doubt, it's a good idea to match the colour bookcase to the colour of the wall. If you're worried that your interior might be too boring, remember that it's the spines of the books that add colour. A good tip is to arrange them by colour – to get that totally Pinterest-worthy effect!