Tiny homes have been in fashion for quite some time now, and here at NorthWalesInteriors we're very much in love with them too.
Tiny homes provide perfect accommodation for guests, home offices, they're great for glamping, and we've even recently read about the trend in American for Granny Pods.
Not forgetting if you love living a minimalist life with streamlined accommodation and very few possessions, then a tiny home could be just what you're looking for, especially as house prices at the moment leave little choice for first time buyers.
Slate Cabin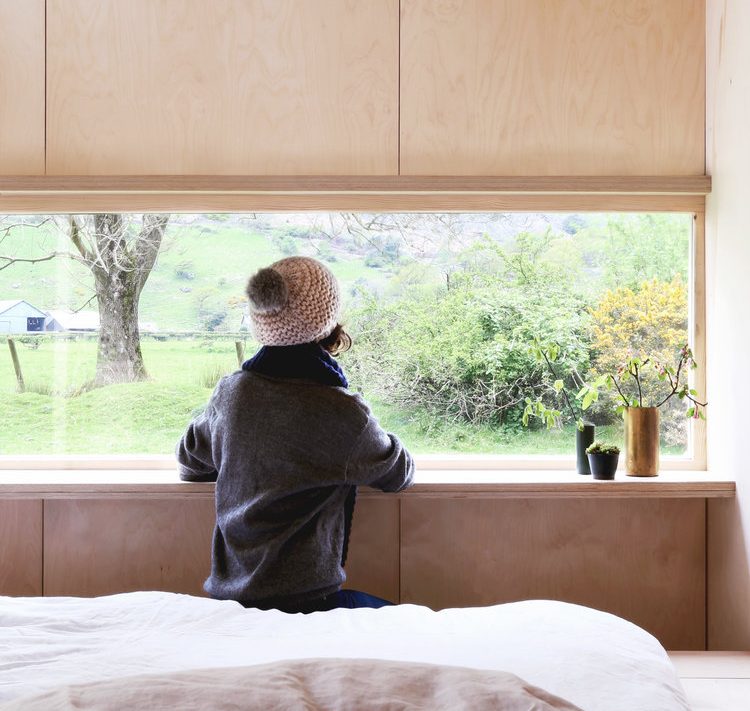 Slate Cabin is part of a set of glamping pods placed in Lyn peninsula, and southern Snowdonia, you may have seen them on 'Cabins in the Wild' on Channel 4, as Slate Cabin was one of eight designs that won in a competition to create cabins based on Welsh mythologies and tradition.
Slate has been synonymous with Wales for as long as many can recall. During the 19th century half a million tonnes of slate were mined, therefore by choosing recycled slate for their design the Australian designers Trias ticked the box perfectly.
Dragons Eye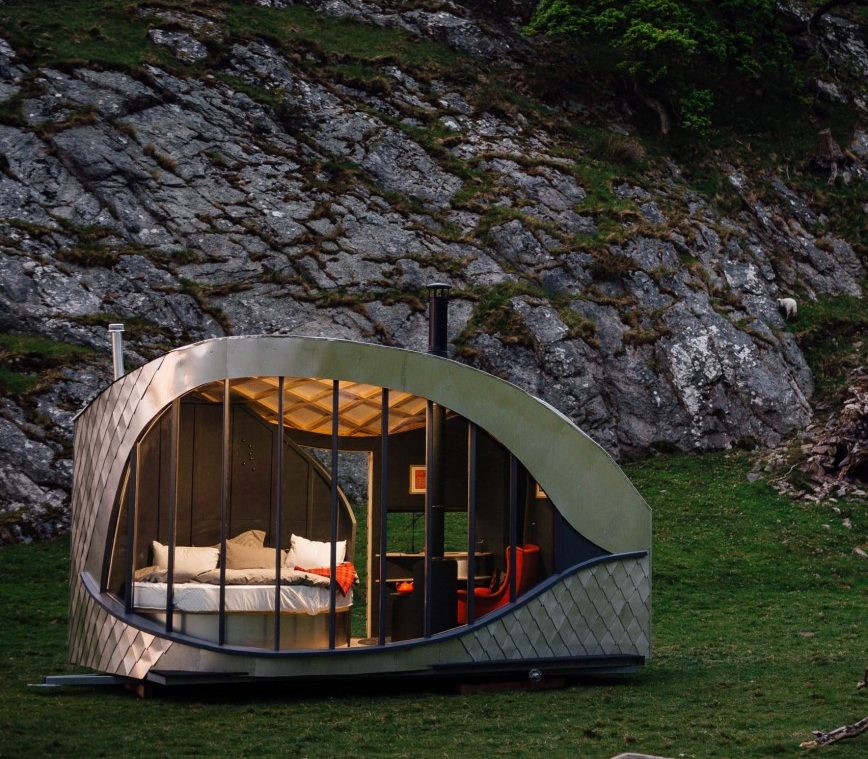 The idea to design around the Welsh mythologies and traditions theme came about due to the 2017 celebration called the Wales' Year of Legends.
The Welsh red dragon standing strong against the white and green background captured the interest of Centre for Sustainable Technologies designer Carwyn Lloyd Jones.
With a steel frame designed to resemble scales, and a giant dragons eye window, nature and mythology seem well and truly combined
Centre for Sustainable Technologies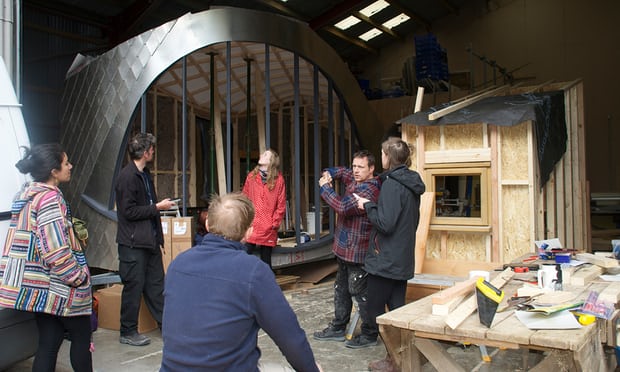 At the Centre for Sustainable Technologies (CST) you can learn how to harness wind and solar power for your homes, and it's even possible to learn how to build your own tiny house with the designer of the 'Dragons Eye' Carwyn Lloyd Jones.
Black Hat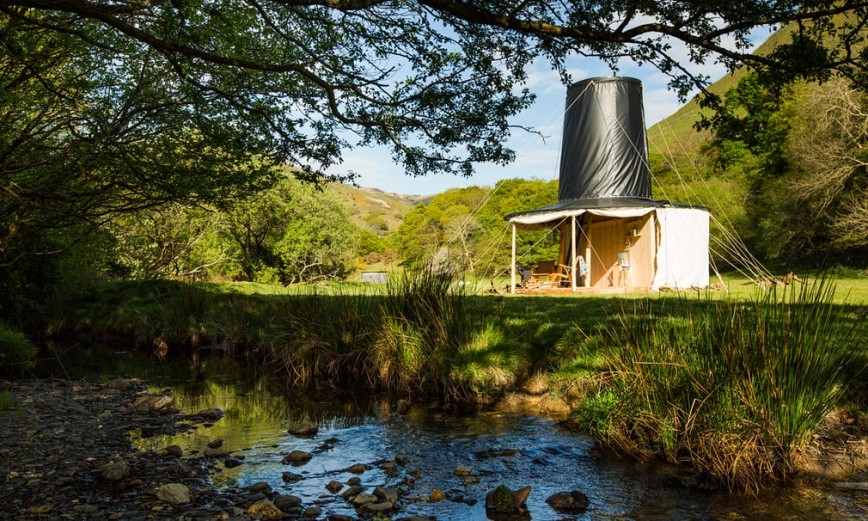 If you've always dreamed of owning your own tiny home to live in, holiday in, or use as an extra space for your existing home, the dream is within reach.
Building your own tiny home, to ordering a prefabricated designs that can be built off site, to employing companies to build your tiny home from scratch, it's all possible.
Look at the design above by Rural Office for Architecture, you could even have your own Welsh hat built on top of your house if you wanted too!
Sky Hut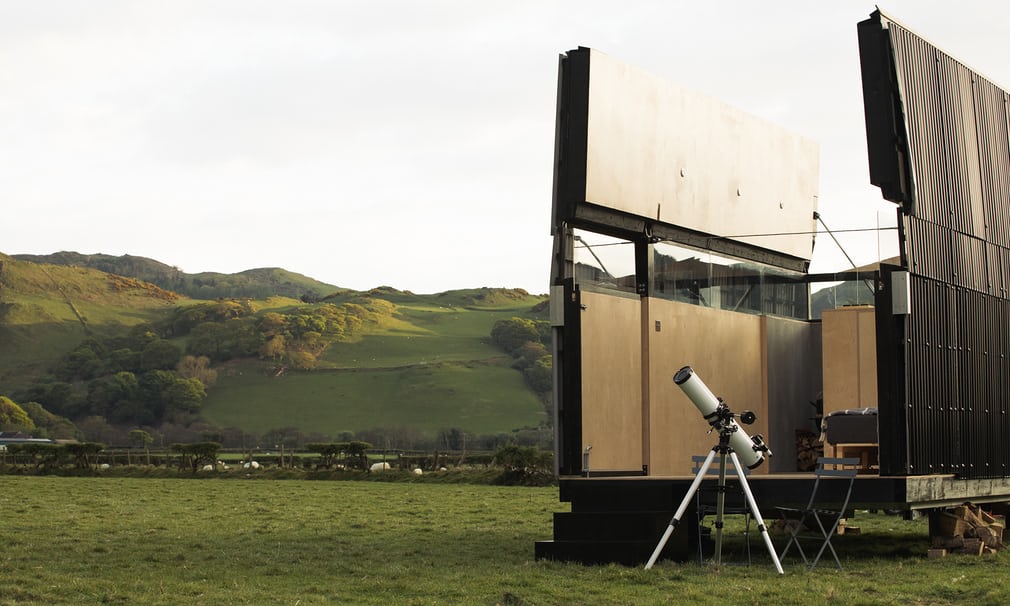 The winners of the Welsh mythologies and traditions competition spent at most £11,000. Your tiny house can cost you less or a lot more depending on your design and budget. Although it might be tempting to cut corners to save money it's not advisable, as the structure needs to be safe to live in.
Cooking, using water and general everyday living within a home whether it's a small home or a large home can put a strain on the structure and materials used, so make sure you cover yourself by getting your property insured, for example with a structural warranty, home insurance, and/or self-build insurance if you go it alone.
Looking at the wonderful design of the Sky Hut, when you're lying in bed at night (hopefully it's not raining), looking up at the stars, you don't want a worry in the world. If you had such a grand designed roof, reassurance that all the structures are sound, and should anything become faulty you are covered by your insurance and warranties, would be a huge relief.
Arthur's Cave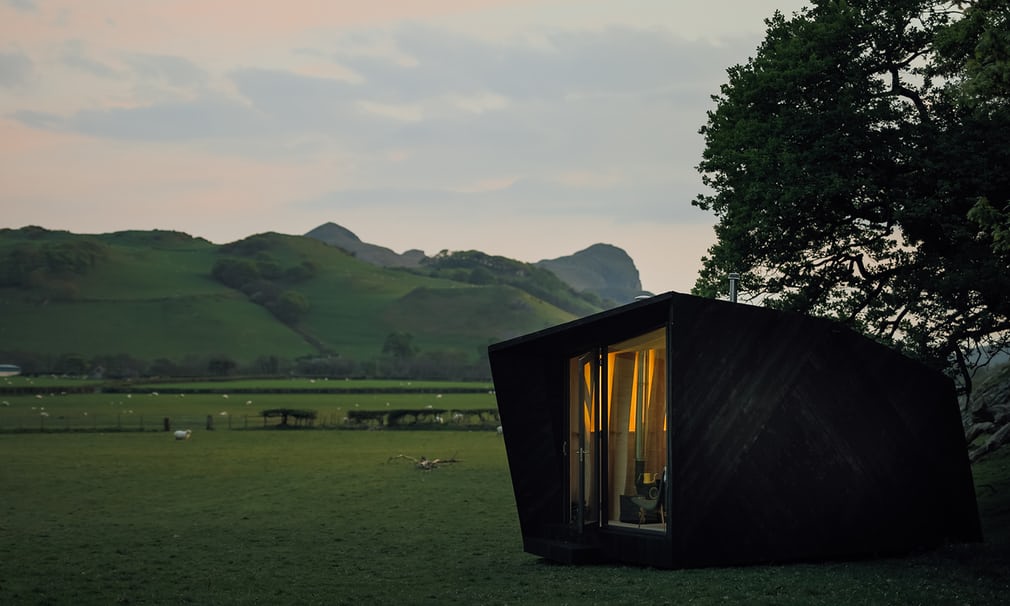 Soaking up the surrounding beauty is easily achieved when staying at Arthur's Cave (designed By Miller Kendrick Architects) due to the large glass sliding doors.
Lighting and having a view to look out on to is of utmost importance when designing tiny homes, as it automatically has the effect of enlarging the room, and who wouldn't want to look out on to the welsh countryside.
Animated Forest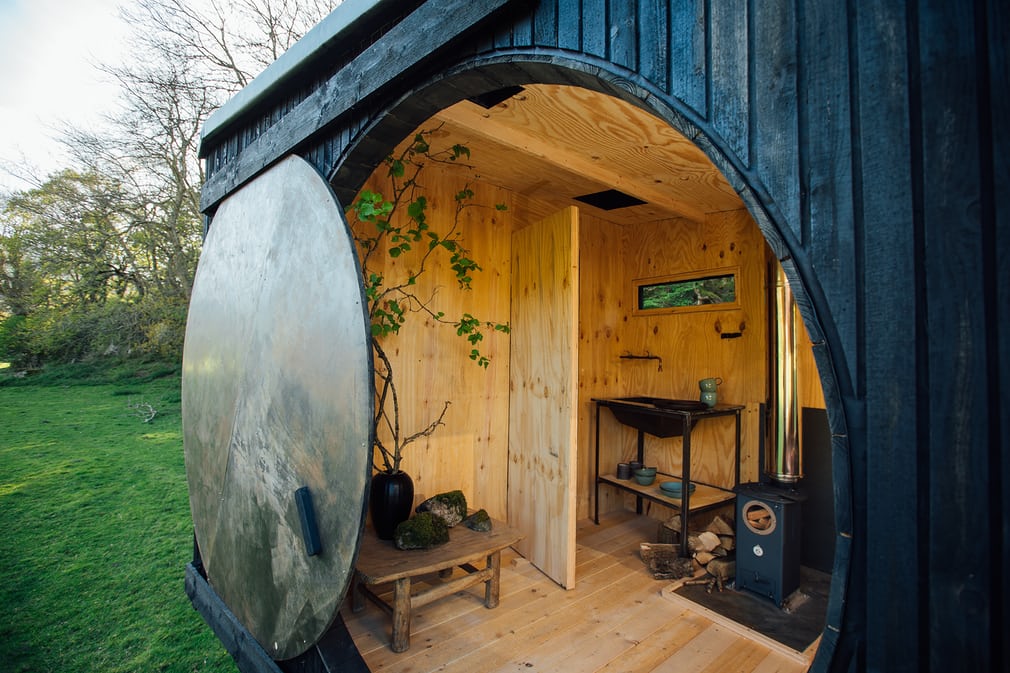 One of the winners 'Animated Forest' by Francis and Arnett has got to be one of my favourite designs as it's so earthy and rustic, and that door is definitely something out of a storey book.
In fact, it looks like the entrance to a cave! But I suppose only one entry can be called Arthur's Cave!
Miner's Legend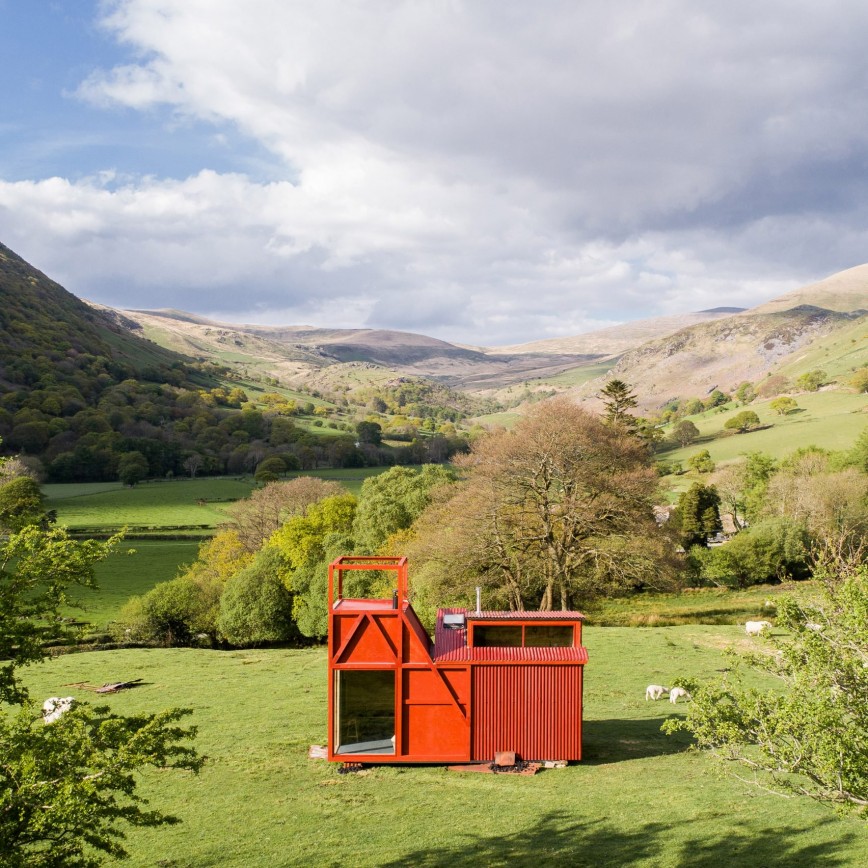 With such a strong mining history in Wales, from coal to slate, it would of been odd not to of/have added an industrial design in tribute to all the miners.
Don't be mistaken by its industrial look, with a log burning stove and beautiful views over the Welsh countryside, this design is just as warm and cosy.
Little Dragon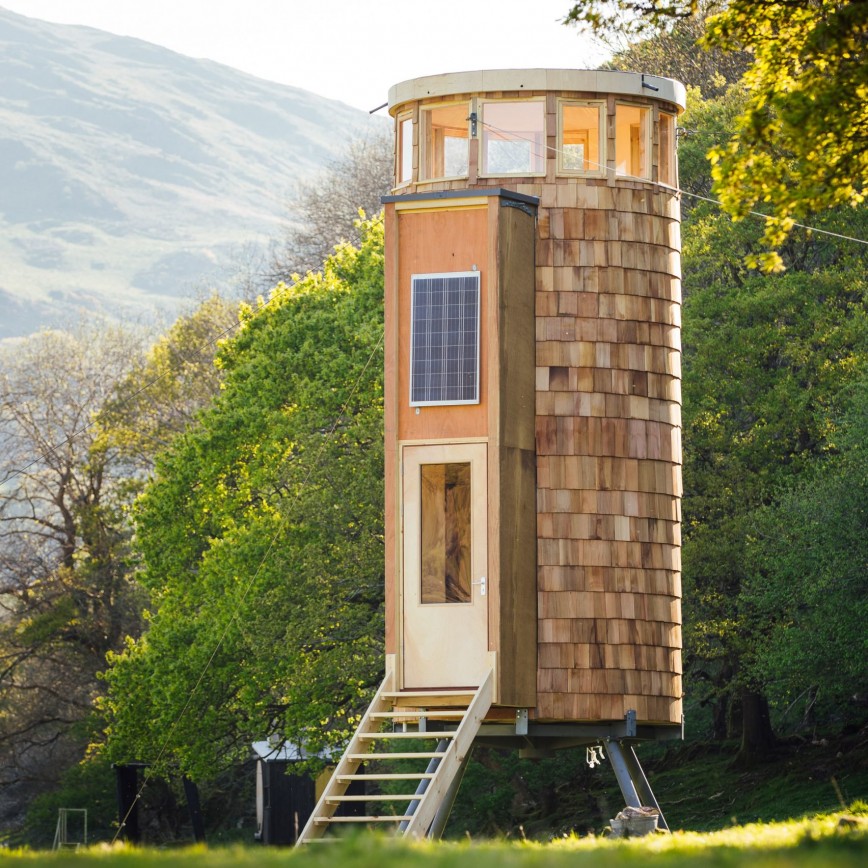 Just because a house is small doesn't mean it can't be tall. The Little Dragon tower by Barton Willmore architects is so much fun. It goes to show that bedrooms can be incorporated into existing furniture such as sofas, built into the roof area, or on their own level, even in small property.
After looking at these eight small houses you realise the only thing limiting a design is imagination!
If you've ever stayed in one of these tiny homes, what did you make of the experience? Is it too small for you to live in, or would you love to down size and embrace the tiny house trend?
Image 1 & 2 Source. 3, 9 & 10 Source. 4 Source. 5, 6, 7, 8 Source.