As we head into December, you're probably thinking about decorating for the festive season.
This year, why not trim your tree with one or two of these quirky ornaments? From bright and beautiful to gaudy and chintzy, they're certain to make a statement and put a smile on your family's face until well into the New Year. Here are eight of our favourites:
Gisela Graham Pink Clear Glass Bauble with Butterflies from The Contemporary Home, £4.49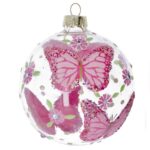 Pink butterflies and dainty flowers decorate this charming clear glass bauble from Gisela Graham. A sprinkling of glitter provides the perfect finishing touch. We think this bauble would look brilliant hanging from a white Christmas Tree.
---
Gisela Graham Gold Basket with Rose/Butterfly Metal Decoration from The Contemporary Home, £9.99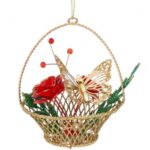 This decoration is from Gisela Graham's 'Doves and Roses' collection, which combines romantic motifs with traditional red and green colours, perfect for the "celebrating the glorious feast of Christmas" according to the designer. The ornament features a single white dove perched on a gold basket full of festive foliage. The entire bauble is covered with glitter, which will ensure it will twinkles when placed next to lights on your tree.
---
Leopard and Tiger Print Baubles from Cox & Cox, £18.50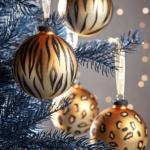 Animal print is big at the moment. If you fancy decorating your tree inline with this trend, you'll love this set of six baubles from Cox and Cox. There are three tiger and three leopard print baubles, all finished in rich burnt orange and gold tones.
---
Gold Dachshund Bauble from Annabel James, £7.95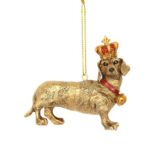 Hang this friendly gold dachshund to guard your tree this Christmas. The cute little fella has a red collar with a gold bell and a matching crown.
Annabel James also sell a second dachshund bauble! He's dressed in a red tartan coat—very festive!
View them both at annabeljames.co.uk
---
Pink Lightning Bolt Bauble from Albert and Moo, £5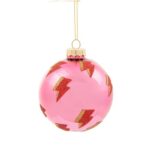 Completely shun tradition with this neon pink bauble. It features a pattern of red and gold glittery lightning bolts.
Mix and match with coordinating baubles from Albert and Moo (pictured in the featured image, above too) to create a real statement!
Shop baubles at albertandmoo.com
---
Glitter Carousel Tree Decoration from Poundland, £1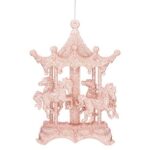 Poundland certainly wins the prize for the most ostentatious ornament at the lowest price. Costing only £1, this is a total bargain buy. It features four prancing ponies attached to a fairground carousel. And it is covered in pink glitter from top to bottom, what's not to love?
View the full range at poundland.com
---
Butterfly Christmas Hanging Decoration from Curated Living, £8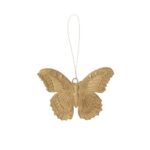 Although not a traditional Christmas motif, who could say no to this shimmering gold butterfly? The metal insect will look wonderful hanging from your tree amid the lights and tinsel.
We can picture several gold butterflies hung across the tree. Or, pair this with the half-moon Curated Living sells for a rather mystical look.
Shop it at curatedliving.co.uk
---
Garden of Eden Tree Decoration from Rockett St George, £18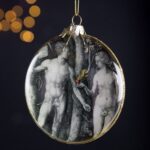 This year, we've noticed several shops reinterpreting religious iconography in their Christmas decoration collections. Rockett St George is one store. They've released this quirky Garden of Eden bauble, which features a black and white illustration of Adam and Eve.
Browse at rockettstgeorge.co.uk
---