Whether it's a box room, the back bedroom, the nursery, or the office, most modern homes suffer from a tiny third bedroom.
This space can be awkward and often ends up as a junk room, with little purpose. Your third bedroom doesn't have to be this way though, follow our tips and transform your box room into a tranquil retreat.
Choose bespoke fitted furniture
Opting for bespoke fitted bedroom furniture allows you to customise your storage solutions to fit your personal requirements. With a bespoke wardrobe, you can maximise 100% of your available space, so those awkward nooks and crannies become opportunities to make smarter storage decisions. In a small room, sliding doors are essential as they don't require additional space to open. When it comes to choosing the design of your wardrobes, less is usually more.
Create more floor space
Give the illusion of having more space by using floating shelves in place of a bedside table, or desk. This creates more surface area as there is less furniture cluttering up the floor space. Floating shelves make great storage solutions and can be positioned discreetly to hide a multitude of sins. When it comes to a desk chair, save the floor space by choosing a folding chair that can be hidden behind a door, or popped inside the wardrobe when not in use – further minimising unnecessary clutter.
Don't waste any space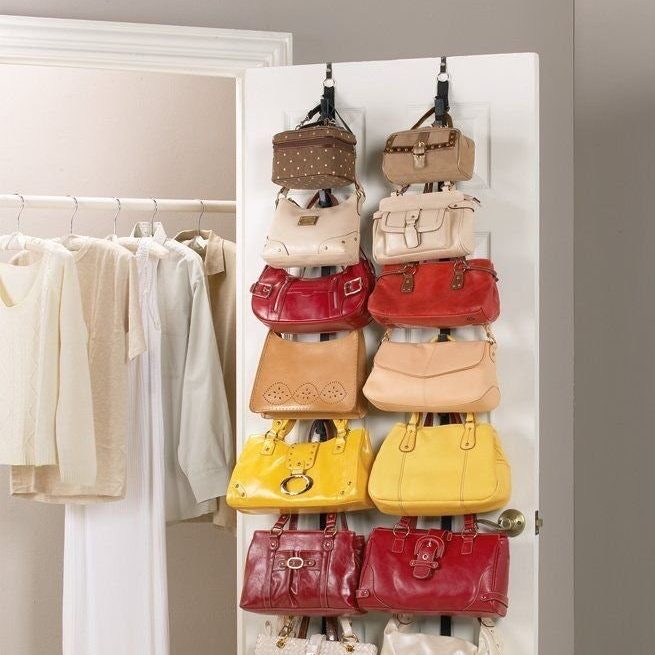 Image Source: ApartmentTherapy.com
When you're working with a small area, all space is valuable. Make the most of the space under your bed by either choosing a bed frame with storage drawers, or by sliding pretty baskets beneath the bed. This is a great space to keep things like shoes, bed linen and electrical items neat and tidy. Another area that is often forgotten is the space behind the door. An obvious storage hack is to add hooks for your coats, but you can also get clever storage pouches that can be used to store everything from jewellery to baby clothes!
Keep things neutral
Avoid heavily patterned wall papers, duvet covers, curtains etc. in a smaller bedroom as these can make the room feel more enclosed. Instead choose a light neutral colour palette that opens-up the space. To add some personality, you can incorporate colour and textures using cushions, throws and wall art. This is a subtle way to add trendy features without going OTT and overwhelming the room.
Light it up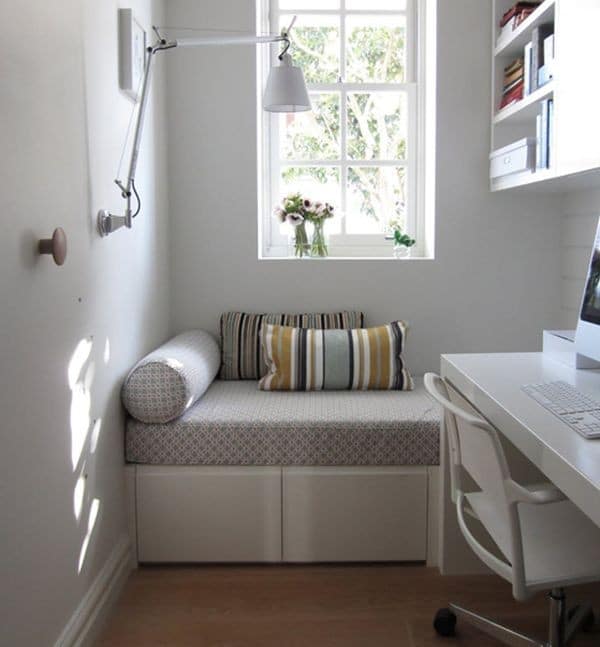 Lighting is important in any room, but especially in a box bedroom, as getting this wrong can ruin the whole aesthetic. As well as overhead lighting, you can experiment with down-lighting underneath shelving to save counter space, fairy lights to add a little personality and hanging pendant lighting as an alternative to a bedside lamp. You can also play with mirrors to help bounce the light around and to give the illusion of more space. Perhaps you could pick mirrored doors for your wardrobes, or even use mirrored wall art for a quirky touch?
Main Image Source: ApartmentTherapy.com