While the majority of people are busy decorating homes ready for the festive season, and at NorthWalesInteriors we're definitely no exception as we love getting in the Christmas spirit, we're also thinking ahead to 2018.
Each new season brings its own must-have interior styles and next year will be no exception. In fact, there are some impressive bathroom trends for 2018.
If you're thinking about revamping your bathroom, read on to make sure your design ideas will be on trend.
Monochrome
Black and white is always a fantastic colour scheme that can open up any room to make it feel modern and fresh, but have you thought about using it in your bathroom? Monochrome bathrooms are set to be huge for 2018. Add monochrome in subtle ways through towels, mirrors, lighting and accessories, or go bold with flooring, patterned tiles, or a black bathtub.
Gold and Brass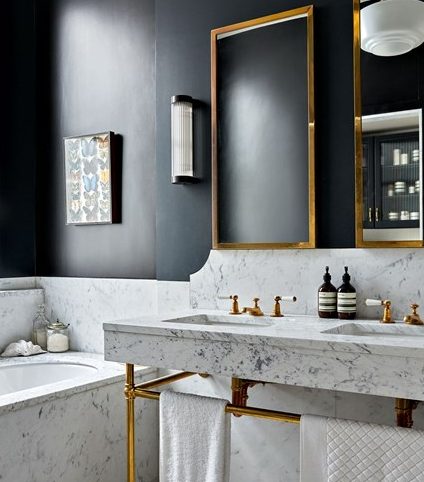 Image Source
Chrome and stainless steel have long been popular choices for bathrooms but in 2018, gold and brass will be taking their place. Whether on taps, showers, mirror frames, or radiators, a touch of gold or brass can help to create a bathroom that feels more luxurious and spa-like, making it the perfect place to unwind after a long, stressful day.
Set in Stone
We've seen a lot of marble used in living spaces and it's set to be one of the biggest bathroom trends for 2018. Marble is great trend to add to your current bathroom as it goes with most colour palettes, making this an easy update that can be completed with a few new accessories. Alternatively, you could consider a marble shower, floor tiles, a sink or furniture.
Vanity Sinks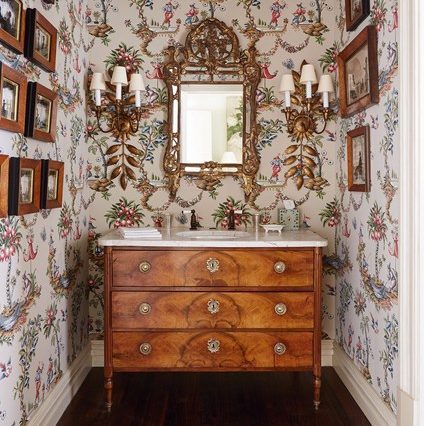 While they are great space savers, ceramic pedestal sinks are not always the most aesthetically pleasing choice for a bathroom. The good news is, if you're considering renovating your bathroom, vanity sinks will be a must in 2018 – Travis Perkins have a great selection. Marble is also a favourite here, so select a stone basin to stay on trend.
High Tech Showers
It seems that 2018 will be the year of technology-filled bathrooms. While larger rain and waterfall showers have become popular in recent years, this it set to change. Filled with tech, popular showers choices will be digitally controlled or even have built-in audio – who doesn't like to listen to music while showering?
What do you think of the biggest bathroom trends for 2018? Will you be trying any of them? Let us know in the comments below!
All Image Sources